Buds Organics completes the organic management of eczema and sensitive skin this Eczema Awareness Month with new additions to the Buds Super Soothing Organics (BSSO) range
KUALA LUMPUR, 13 October 2022 – A baby's skin is an extremely important and delicate organ that requires the best protection from the outside world. Babies also feel at their most comfortable when their skin is healthy and moisturised. Therefore, full attention and specific care is required for babies and their skin, to ensure the little ones are happy and cheerful. However, many babies also suffer from sensitive skin which calls for parents to go the extra mile for their little bud, especially when it comes to eczema. This also leads to parents enduring a range of psychological effects, including anxiety and lack of sleep, in a bid to find solutions to provide relief for their precious ones. 
Eczema is an ongoing skin problem that causes dry, red, itchy skin, with almost one in five children affected by this. In conjunction with Eczema Awareness Month, Buds Organics aims to provide Malaysian parents with the solutions needed for complete organic management of sensitive and dry skin, with a steroid-free and certified organic range of effective and gentle products. This includes two new additions to its Buds Super Soothing Organics range: the Super Soothing Deep Moisturising Cream and Super Soothing Intensive Repair Cream.
The Buds Super Soothing Organics range is developed specifically for babies and kids with severely dry and sensitive skin. The range provides complete care that goes beyond moisturisation and steroid free. The collection now offers a complete range of eczema care products that consumers can choose according to the severity of their child's skin condition. Therefore, from severe, cracked skin, to itchy rashes and maintenance care after healing, there is a product with the right levels of efficacy for everyone. Formulated for different stages, the winning holistic formula of EASYclear™ + Prebiotic is completed with the following products:
Super Soothing Hydrating Cleanser: for daily cleansing and hydration. 
Super Soothing Rescue Lotion: for mild eczema, dry and sensitive skin. 
Super Soothing Deep Moisturising Cream (NEW): for recovering skin which requires daily deep moisturisation with much-needed soothing, protective and preventive abilities for keeping the skin healthy, to prevent flare-ups. 
Super Soothing Intensive Repair Cream (NEW): for severe eczema and overly irritated skin that needs intensive care and extra relief. This highly effective cream is packed with EASYclear™ + Prebiotic blend to repair and soothe acute, dry, sensitive and irritated skin. 
Buds Super Soothing Organics range
The EASYclear™ + Prebiotic formulation which features blends of clinically-proven plant actives, is developed on the basis of a complete treatment approach with four essential functions – to calm itchiness and soothe inflammation, to protect the skin from moisture loss and harmful bacteria, to repair and promote skin healing and regeneration, and to prevent future flare-ups by strengthening skin's health. The star ingredients used in the EASYclear™ + Prebiotic include:
Calms: Blackcurrant Seed Oil, Balloon Vine Extract, Sunflower Oil Concentrate, Aloe Vera Leaf Juice, Shiso Leaf Extract to serve as antihistamine and anti-inflammatory agent and to suppress allergic reaction. 
Protects: Totarol, Tea Tree Oil, Vitamin E, Olive Oil Extract which act as anti-bacterial agents to protect skin from harmful radicals that can disrupt skin's healing process. Meanwhile, Organic Jojoba, Organic Sunflower, Shea Butter and Sesame Oil form a protective barrier to prevent moisture loss and excessive water loss.
Repairs: Inca Inchi Oil, Argan Oil and Shea Butter Extract to promote skin recovery regeneration. 
Prevents: Prebiotic Alpha-Glucan Oligosaccharide to strengthen skin barrier, stimulate growth of friendly bacteria whilst preventing flare ups.
Additionally, all Buds Organics products are ECOCERT certified and made with natural, plant-derived ingredients with the highest quality, ethically sourced and sustainably farmed ingredients, making it safe for babies and children.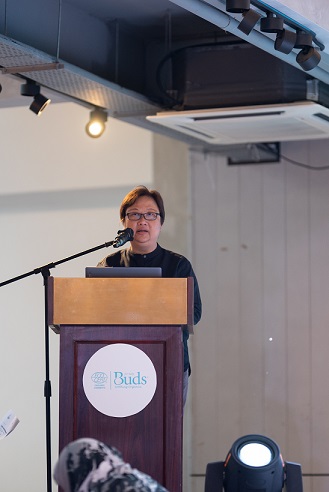 "The journey of treating sensitive skin for little ones has always been very close to our hearts, as my brother's children were born with severe eczema. His research, development, and love for his children to help provide relief for sensitive skin was exactly what led to our very first Buds Organics range in 2004. Today, Buds Organics remains committed to providing the best care and protection for families dealing with dry and sensitive skin for their babies and children. We want to continue giving parents a peace of mind, allowing families to explore the world and spend precious moments together, without the worry of missing out on beautiful memories that will be forever cherished," said Soo Siew Peng, Co-Founder and Managing Director of Buds Organics.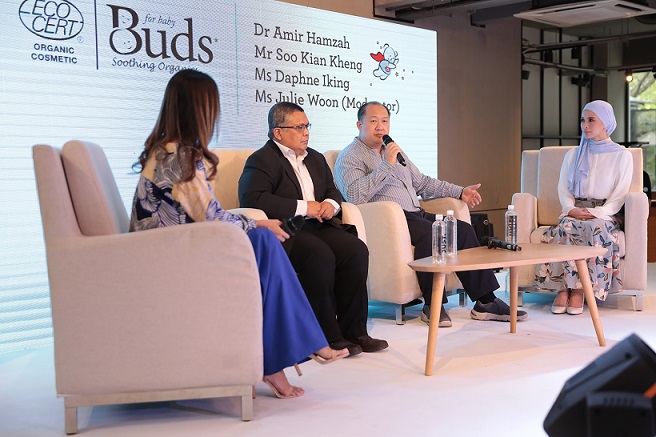 In conjunction with Eczema Awareness Month, Buds Organics also had a fashion show to raise awareness on effectively dealing with eczema. Fabrics play a vital role in ensuring the skin is kept comfortable all day long, with natural and breathable fabrics being the go-to option to help minimise skin irritation. Held on 13th October 2022, the fashion show featured kids and their parents walking down the runway dressed in POKOKS apparel. The local apparel brand is known for its take on embracing culture with modern design, using high quality fabrics to help babies and children stay comfortable throughout the day.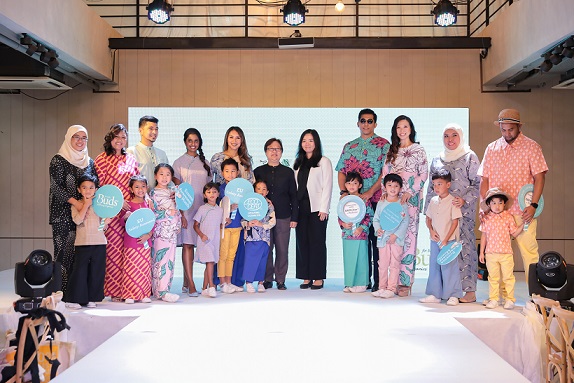 Buds Organics also hosted a lifestyle photo exhibition of parents with kids affected by eczema, as a way to honour their journeys while breaking the negative stigmas often associated with eczema. This was all part of Buds Organics' aim to highlight families living their best, meaningful lives without being held back by sensitive skin-related issues. 
Celebrating Eczema Awareness Month
Eczema Awareness Month Promotion
Enjoy 50% off Buds Super Soothing Starter Kit with any purchase above RM100 on Buds Organics' official website, Shopee Mall, and LazMall.
Get Comfortable with POKOKS
Enjoy RM20 off for The Luna Collection range of luxurious premium cotton pyjamas with discount code BUDS-RM20 at www.pokoks.com.
For more information on Buds Super Soothing Organics, visit budsorganics.co and stay up to date with the latest updates from the Facebook and Instagram pages. To shop for more amazing and sustainable products for your family, check out budsorganics.co/shop/.