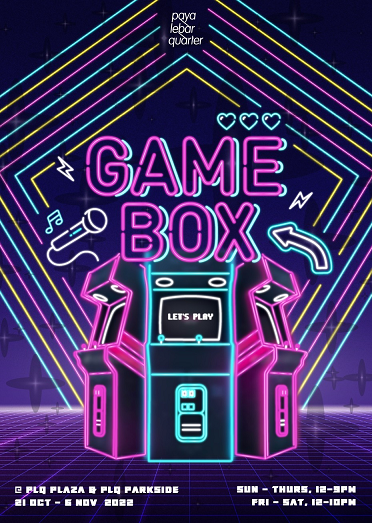 Shoppers can look forward to arcade and multi-player games, dance to local music hits and win over 100,000 Lendlease Plus$ to offset their shopping purchases.
Singapore, 14 October 2022 — Lendlease's first and biggest neon and gamified playspace, Gamebox, is landing at Paya Lebar Quarter (PLQ) Plaza with a thrilling two and a half weeks of fun-filled arcade favourites, multiplayer games, and live heart-pounding beats by local artistes from 21 October to 6 November!
Always pushing the frontiers of shopper engagement, Lendlease is delighted to partner with INVADE – the creator of many iconic events like Artbox and Shilin Night Market Singapore – to launch this exciting one-of-a-kind gaming concept that is sure to capture the hearts of the young and the young-at-heart alike. Levelling up the experience, this adventure sends shoppers on a quest to win over 100,000 Lendlease Plus$ when the objective of each game is achieved. Come join in; may the best player win!

Base Pass Redemption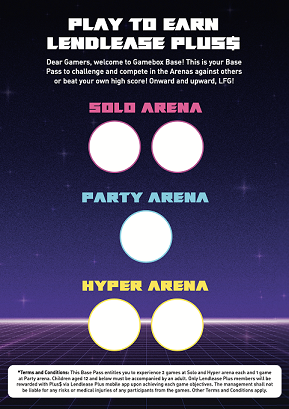 Get your joysticks ready and your game play steady! Redeem your complimentary base pass to enjoy free play of five different games by simply shopping at Paya Lebar Quarter, or sign up as a new Lendlease Plus member. Take this chance to battle with your friends and win over 100,000 Lendlease Plus$ at the games.
Here's how you can redeem your free base pass to play:
For shoppers, simply spend a minimum of $80 ($60 for Lendlease Plus Members) at Paya Lebar Quarter to redeem the base pass at PLQ Mall Level 4 Concierge.
For those who are not Lendlease Plus Members yet, visit the Lendlease Plus Booth at PLQ Plaza and receive 10,000 Plus$ and a base pass instantly.
For members of the public, fret not, we've got something for you too! With no minimum spend in a single receipt, redeem one free play at any chosen gaming arena to join in the fun! To join the express queue, simply spend $20 in a single receipt.
Three Arenas & 10 exciting games – including new-to-market games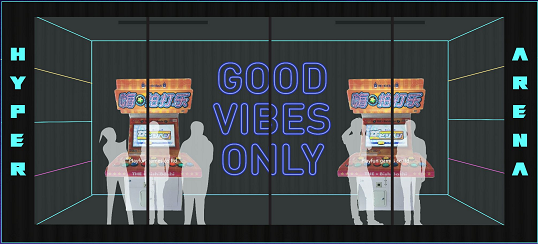 Give your best shot at the 10 games across three fun-tastic gaming zones! Gamebox is debuting four new-to-market Kult-curated games at the Solo Arena – Turbo, Timeout, Froggie, and Gone Fishing. To play, participants get to pick two battles and race against the leaderboard. The Party Arena offers three multiplayer games –  FNAKBALL, Go Kart Go!, and Tower Game.

Team up with friends and family for some crazy action-packed games as you head over to the Hyper Arena and play to survive the three arcade favourites – Drum Mania, Bishi Bashi Channel, and Up and Away. Simply hit the objectives of each game to win Lendlease Plus$!
Games Bazaar

Discover a series of interesting finds at the Games Bazaar! With a curated selection of stalls selling gaming-related items and conducting various workshops, add a unique spin to your Gamebox experience here. One of the stalls, LAYANGMAN, known for its old school toy-making expertise, will be offering a free-to-play shooting game for everyone at the Games Bazaar booth. Stand a chance to win exciting prizes when a minimum high score is achieved. For a memorable gaming experience, join in the complimentary 3-pax wooden gun making workshop or simply purchase the ready-to-play wooden guns for some shooting fun!
Jam to Live Beats 

Over the weekends, chill out with some live, heart-pounding beats by 11 local artistes. On Fridays, Saturdays and Sundays from 21 October to 6 November, catch the live musical performances and groove to the beat from 7PM till late. Featuring acts by @AmanderSings, @Fyrdauzmacbeth, @JoieTan, @leejunweimarcus, and many other local favourites, head down to Gamebox with your friends to unwind for the weekend.
Instagram-worthy Photo Opportunities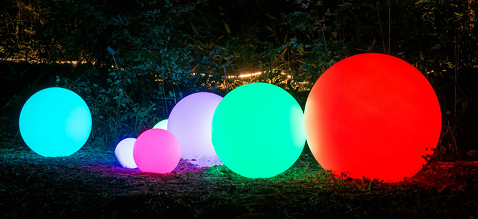 Complementing the fun and games at PLQ Plaza is a visually captivating and photogenic light installation, Kaleidoglobes @ PLQ Parkside, located right across Sims Avenue. Accentuating the neon orbs, PLQ Parkside comes to life in the evening for a perfect Instagram-worthy moment or even a simple evening stroll.
What's more? Stand a chance to win a $100 Lendlease E-Voucher by simply taking a photo of yourself with the Kaleidoglobes, and post it on Instagram with the hashtag #PLQGamebox from 21 October to 6 November!
For some cool shots within the playspace itself, take a picture at the Prism Portal which lights up in various hues of neon streaks as players walk through the 6 metres tunnel. Share your fun moments with us by tagging #PLQGamebox in your social media posts!
Gamebox is open from 12PM – 10PM on Fridays and Saturdays, and 12PM – 9PM on all other days from 21 October to 6 November 2022. Mark your calendars and immerse yourself in Lendlease's first and biggest neon and gamified playspace at PLQ Plaza and PLQ Parkside – 10 Paya Lebar Road, PLQ Plaza, Paya Lebar Quarter, Singapore 409057.
Let the games begin; may the odds be ever in your favour.