The rise of direct-to-consumer (DTC) in retail is often seen as a competitive threat to e-commerce marketplaces. After all, with an increasing number of big retailers adopting a DTC strategy, it would appear that marketplaces would begin to occupy a less prominent position in the e-commerce landscape.
Contrary to this widely held assumption, however, Parcel Monitor and iPrice's latest study has found that many DTC retailers are increasingly utilising e-commerce marketplaces as a crucial pillar of their DTC strategy. This is because marketplaces enable them to reach out to a larger consumer base, especially in countries where brands experience a smaller retail footprint.
The shift from traditional retail to direct-to-consumer
Despite facing a 38% dip in revenue due to pandemic-induced store closures, Nike's sales bounced back in August 2020 thanks to its DTC business which saw its online sales increase by 82% up from last year. Similarly, Under Armour's wholesale revenue fell 25% in 2020, while DTC sales rose 2% driven by a 40% gain in e-commerce sales.
With Adidas targeting to hit 50% DTC sales by 2025, combined with strong e-commerce demand trending upwards during the pandemic, the trend towards DTC is unlikely to lose momentum in the coming years.
The DTC trend vis-a-vis the role of marketplaces in Southeast Asia
For this analysis, Parcel Monitor and iPrice looked into the e-commerce traffic data for the three international sports retailers above in Singapore, as one of the most developed cities in Southeast Asia, and Indonesia, as the largest e-commerce market in the region.
iPrice's price comparison platform showed a 329% and 56% increase in Google impressions for Under Armour in Singapore and Indonesia respectively. These upward trends were also observed for Adidas and Nike in both Singapore and Indonesia.
As consumers conduct their own price comparisons, marketplaces have increased in popularity in Southeast Asia. Last year, Shopee, Lazada, and Tokopedia's platforms collectively reached over 500 million web visits.
DTC brands have caught onto the marketplace trend; they responded by partnering with these platforms and setting up official e-commerce storefronts to expand their presence on marketplaces.
For example, both Shopee and Lazada, leading marketplaces in Southeast Asia, are partnering with retailers to make their products more accessible to consumers in the region. For instance, the announcement of Lazada's partnership with Nike last November aims to allow Nike to directly retail to consumers in this region. Likewise, Shopee is working with Sulwahsoo and its parent firm to allow them to directly retail to consumers in this region.
The birth of official stores in marketplaces like Shopee and Lazada
Marketplaces like Lazada and Shopee have dedicated spaces, LazMall and Shopee Mall, that feature a collection of official stores. Official stores are retailers or sellers of brands that have been verified by marketplaces themselves, ensuring consumers of the authenticity of branded products. From iPrice's research, we found that the percentage of brand products in marketplaces from official stores range from just 4% to over 20%!
In the past, marketplaces were typically dominated by small local and international businesses. Today, marketplaces look completely different with big name brands occupying a significant presence. For instance, based on iPrice's research, there were more than 1,000 Under Armour Official Store products listed on Lazada and Shopee Singapore alone as of April this year!
Brand
Country
No. of official store products in Lazada and Shopee
Adidas
Singapore
> 1,500 products
Indonesia
> 1,200 products
Under Armour
Singapore
> 2,000 products
No. of Official Brand products in top marketplaces Shopee and Lazada as of April 2021
(Data Source: iPrice Group)
What this shows is the ever-changing landscape of marketplaces and the crucial role they play in driving the sales of huge DTC brands. Marketplaces present immense opportunities for not just small businesses, but also for some of the biggest retailers in the world, serving as an integral component of the DTC strategy.
Indeed, with the end-to-end value provided by marketplaces that range from marketing to logistics support, brands cannot afford to pass on marketplaces.
"Lazada's partnership with marquee brands offers premium and personalised shopping experiences to our customers. LazMall provides a trusted platform that complements business strategies. For example, our bold compensation and returns policy guarantees product authenticity and assortment quality. Combined with access to our comprehensive logistics ecosystem, brand partners can scale their commerce operations sustainably," said James Chang, Head of Strategic Accounts and Retail, Lazada Group.
Marketplaces are growing stronger than ever, especially in Singapore and Indonesia
In 2020, Shopee and Lazada's experienced record-breaking Singles' Day sales numbers that surpassed their performances in 2019. As 200 million items were sold in one day on Shopee, and $11m in sales poured in on Lazada within the first 100 seconds of the event, marketplaces are vital platforms that enable brands to capture huge growth opportunities.
Comparing Q1 2021 with Q1 2020, the top three e-commerce marketplaces in Singapore and Indonesia experienced a 65% increase in web visits. At this rate, the top e-commerce marketplaces in both countries may grow above last year's web visits.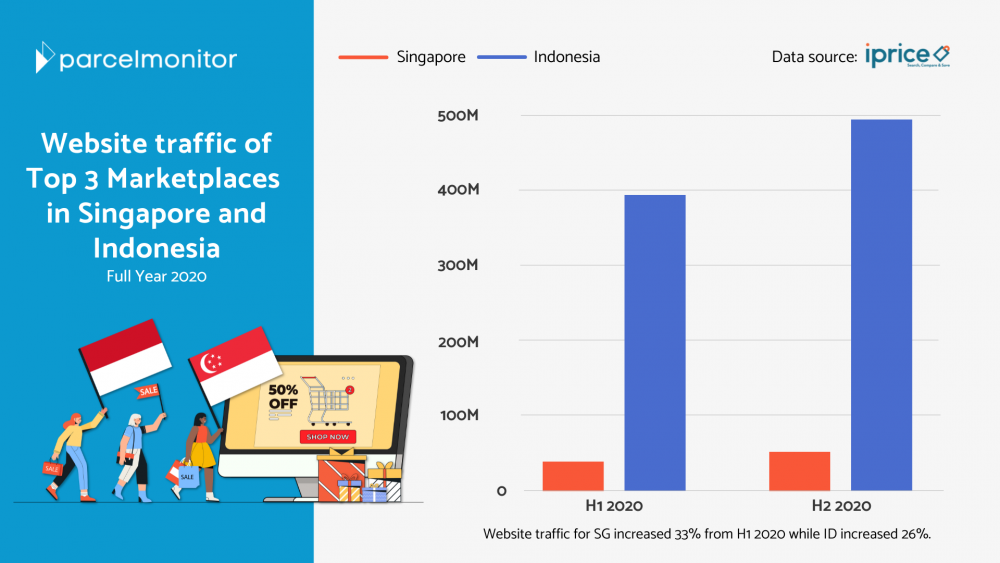 In fact, the increase in users using e-commerce marketplaces far exceeds this, given that a significant number of consumers use mobile apps to make purchases due to the high mobile penetration rate in the region.
It is no wonder why DTC brands are drawn to marketplaces as they can tap these millions of users (particularly during mega sale events like Singles' Day), significantly expanding their reach to consumers in the region and doubling down on their DTC sales.
About iPrice Group
iPrice Group is a meta-search website operating in seven countries across Southeast Asia namely; Malaysia, Singapore, Indonesia, Thailand, Philippines, Vietnam, and Hong Kong.
Currently, iPrice compares and catalogs more than 6 billion and receives about 20 million monthly visits across the region. iPrice currently operates three business lines: price comparison for electronics and health & beauty; product discovery for fashion and home & living; and coupons across all verticals.
About Parcel Monitor
Parcel Monitor is the global knowledge-sharing community dedicated to E-Commerce Logistics for retailers, logistics carriers, and end-consumers. Join now for the latest news, data-driven insights, and hottest events for all things e-commerce and logistics.