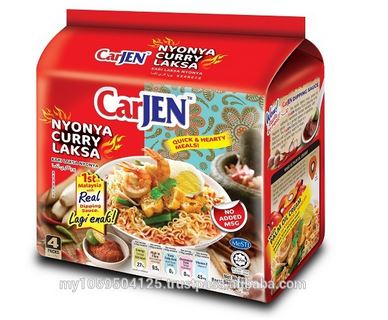 It has been a while since I wrote something about the white curry instant noodle craze in Malaysia. While driving to a shopping mall today, I saw a Carjen Food Sdn Bhd van with a poster of a new Nyonya Curry Laksa. This product is not seen in major supermarket/hypermarket chains in the Klang Valley.
What is special about the instant noodle is the dipping sauce. The image below is a close up look of the dipping sauce as presented on the packaging. Carjen claims to offer the first instant noodle in Malaysia with "real dipping sauce." I have not seen this product in person but based on the packaging information, this is indeed an innovation. Usually, all the ingredients including the paste are to be added as part of the preparation. However, this instant noodle comes with a separate dipping sauce to create the atmosphere of eating the actual noodle in the hawker stall. The dipping sauce adds to the spiciness of the noodle.
The noodle also comes with palm oil cream, which is a source of vitamins and minerals. Does palm oil cream worth mentioning as a unique selling point given the bad reputation of palm oil of being very high in saturated fat especially among Western customers? Malaysian customers normally do not subscribe to the notion of palm oil being unhealthy due to government PR campaign. But Carjen needs to take note of this if it intends to exports to other markets.
I would say this is a good attempt by Carjen to innovate using dipping sauce.