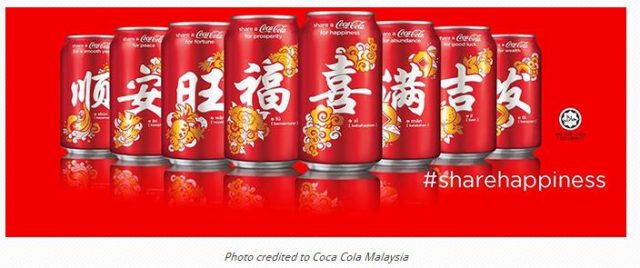 With the year of the Very Goat just around the corner (goat rhymes with the word good), the leading soft drinks companies in Malaysia The Coca-Cola Company and F&N have personalised their drinks for the festive occasion.
Lucky Chinese words such as prosperity and happiness are printed on the Malaysian edition of Coca-Cola cans for the first time. Yours truly have already collected two cans.
They come in a pack of 10 cans (10x324ml RM 11.88) as a gift pack. Now you can substitute the usual Chinese mandarin oranges with 10 cans of Coca-Cola imprinted with lucky Chinese words when visiting friends and relatives.
F&N has also introduced a collectible Chinese New Year design by cleverly adding a Chinese character next to 100 to create the word 福 prosperity.
The limited-edition cans cannot be bought separately. It has to be purchased as part of a larger pack.
Let's look at PepsiCo Malaysia, There are no collectible cans for this year but what we do know is the company is having its usual campaign to support Chinese education, an issue dear to the heart of the Chinese community. However, the limited-can campaigns of The Coca-Cola Company and F&N are likely to yield better results than PepsiCo's Chinese education campaign because the collectible cans are simply too irresistible!