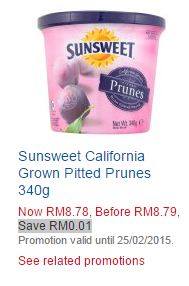 Misleading discounted price as stated on the website on 1 February 2015
Chacho's BBQ Bonanza Tortilla Corn Chips (80g) only RM 0.99 on Tesco online store in Malaysia? This really appears as a mistake. There are numerous examples of these on the Tesco Malaysia online shopping site including the ridiculous RM 0.01 discount.
Misleading one cent discount as stated on the website on 1 February 2015
An email sent to Tesco on 29 January 2015 at 11.30am informing them about the price discrepancy was given a reply hours later on the same day at 5pm. The following was the reply:
Thank you for writing in.

Refer to your inquiry below, please be informed that we have been escalated this issue to the relevant department and will get back to you upon receive feedback from the relevant department.
Until the time of writing on Sunday (1 February 2015), the errors with the price have not be addressed. Tesco does have a price guide policy:
Wo
So, it appears Tesco is well protected but what about consumers? Consumers do have the right not to accept the goods. But wouldn't it be better for Tesco to have someone checking all the prices to eliminate price discrepancy in the first place? Tesco does have a lot to do to improve customer service to address the misrepresentation of price and misleading discounts.
On Monday (2 Feb 2015), I received the following replies from Tesco:
Regarding the RM 0.01 discount:


Chacho's RM 0.99