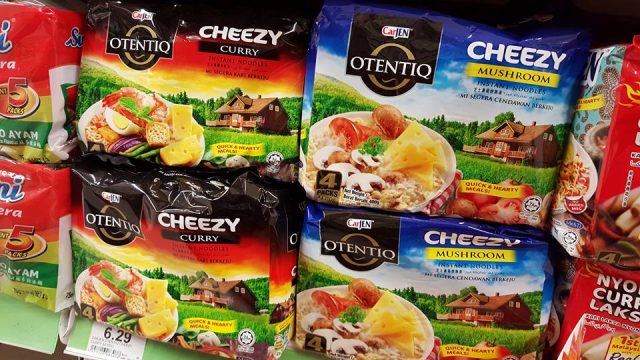 Cheese-based instant noodle has become a new innovation in the Malaysian instant noodle scene. The new Otentiq range offers consumers something different from the current instant noodle fads of white curry noodle and Korean ramyun by offering the "best of both worlds" – Asia (curry/mushroom) and Europe (cheese). The CarJen Food Otentiq range comes with the Cheezy Mushroom and Cheezy Curry flavours. The 4x100g instant noodle claims to use high quality cheddar cheese and is free from trans fat and cholesterol. If one feels the cheddar cheese content is too little, they can top up with other cheese.
The Otentiq range is positioned as a premium instant noodle on par with MyKuali. However, the product does not command good shelf presence, located on the the lowest shelf, at the Giant supermarket at South City Plaza. MyKuali equally does not have a good shelf space, located on the top shelf, but its strong brand means if consumers are really after MyKuali, getting prime shelf space doe not make sense since it will incur higher placement cost.
As for the Carjen Nyonya Curry Laksa, this instant noodle can now be found at Giant supermarket. Previously, as far as I am aware, the Nyonya Curry Laksa was only available in foreign market ie Taiwan. I did mention in one of the earlier blog posts, being on the list of The Ramen Rater means presents the brand with a good opportunity to tap the domestic market. Now, Carjen Nyonya Curry Laksa is available in hypermarket and the packaging now comes with with Ramen Rater #4 best in the world credential.