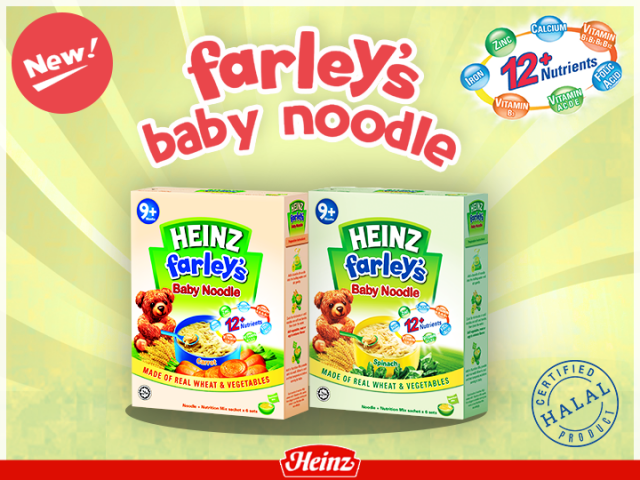 Is Heinz baby food range halal? This is the question often asked by Muslim parents as some of the more premium Heinz baby products are often imported from the UK. The following are a selection of the official replies on the Heinz Babies Malaysia Facebook page in 2015 regarding the halal status of the Heinz baby range.
Heinz Farley's Rusk – certified halal by the Indonesian halal authority
The company does import products from its factory in Indonesia and some of them carry the Indonesian halal certification – MUI.
Interestingly, the new Farley's Baby Noodle is certified by Malaysia' Jakim as it is manufactured locally in Malaysia for Heinz ASEAN Pte Ltd. (Malaysia representative office). So Heinz is now localising its production to improve affordability and trust by having the Jakim label. Everprosper Food Industries Sdn Bhd is the local producer of the new Heinz baby noodle range – carrot and spinach, according to the Jakim halal directory.
At the moment, Heinz sources from its Indonesian factory, the same with competitor Indonesia-based Kalbe for its Milna range. With Nestle already making Cerelac locally, the question is will Heinz localise its production beyond the baby noodle range?