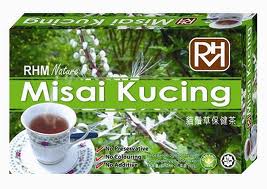 Malaysia is blessed with a rich varieties of medicinal herbs. Tongkat ali and kacip fatimah are well known for promoting healthy libido. Using Google Trends, we see a rising interest in searches for tongkat ali and kacip fatimah in Malaysia. Apart from the two ingredients, which are now widely found in food, beverages and nutritional supplements, misai kucing is also witnessing a rising interest among Malaysians.
Misai kucing, also known as cat's whiskers, is traditionally used to treat kidney stones, urinary tract infection, gout, diabetes, high blood pressure, circulatory disorder and inflammation. Misai kucing usually comes in the form of tea.
Tunjuk langit or sky fruit (fructus swietenia macrophylla), found mostly in Kelantan and Terengganu, is getting quite a lot of attention. Tunjuk langit is known to help reduce the risk of coronary heart disease, for anti-inflammation and reducing pain.
Hempedu bumi (Andrographis Paniculata) is recognised for treating high blood pressure and diabetes. Malays use water boiled with hempedu bumi to treat high blood pressure, diarheaa, fever, insect bite, ulcer and worm problem.
Interest by location:
The popularity of tongkat ali is widespread in Malaysia. Misai kucing and tunjuk langit is more popular in Sarawak and Sabah, while kacip fatimah is widely search in the capital city Kuala Lumpur. For all five herbs, urban consumers in the Klang valley, which encompasses Kuala Lumpur and parts of Selangor, show strong interest largely due to higher internet penetration, the desire the learn more about the health benefits of these herbs and interest in products derived from these herbs.
Therefore, online marketing is key to reach out to potential urban consumers and many sellers have already gone online to sell directly to consumers. Often the sellers are small companies and often go under the radar of government enforcement but they do account for a rising share of the health supplement market. Multinationals will need to start embracing indigenous herbs in order not to be left out from the expanding market.
Nu-Prep – a successful tongkat ali product that has gone global