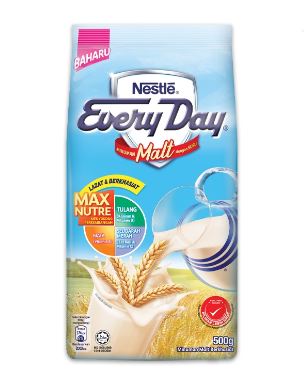 The Nestle Everyday milk powder range in Malaysia now comes with malt flavour to offer a more flavourful way to enjoy Nestle Everyday milk. We have seen NPD activities with malt flavour including the launch of Marigold UHT malt milk in 2019.
The new Nestle Everyday Malt Milk Powder contains 48g of carbohydrate and 8g of protein per 100g compared to 55.2g of carbohydrate and 16g of protein per 100g for the existing Nestle Everyday Milk Powder.
Nestle Everyday Malt Milk Powder is formulated with Max Nutre, which features a combination of 11 micronutrients comprising 8 vitamins and 3 minerals to support growth and help in the development of red blood cells, bones and muscles. The launch of the new malt milk powder is seen as a move by Nestle to attract consumers to its Nestle Everyday range and grow share in the milk powder segment.
Nestle Everyday Malt Milk Powder is available on Shopee.