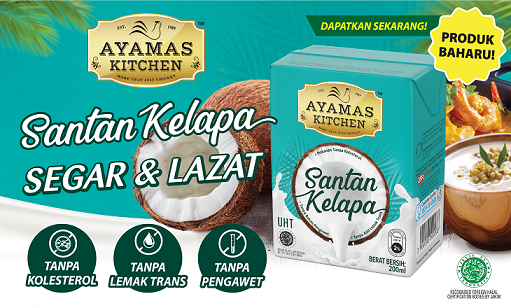 Petaling Jaya, 07th October 2022 – QSR Trading Sdn Bhd (QSRT) have unveiled their new coconut milk 'Ayamas Kitchen Santan' under its ambient brand Ayamas Kitchen. QSR Trading Sdn Bhd (QSRT), is a subsidiary of QSR Brands, the operator of KFC and Pizza Hut in Malaysia.
"'Santan', the Malay word for coconut milk, is without a doubt a major staple of many Malaysian dishes, more so during the Ramadan month and Hari Raya. Our goal is to increase our presence in all the major supermarkets by quarter 4 this year, making it convenient for our consumers to obtain their supply of coconut milk at the highest quality" said Chan Chong Thye, General Manager, QSR Trading Sdn Bhd.'
"With the tagline "Fresh & Delicious', The Ayamas Kitchen Santan is produced through Ultra High Temperature (UHT) resulting in no requirements of preservatives. It has 20% fat content, and comes with a naturally unique and authentic taste, making it suitable for many types of Malaysian cooking. In addition, the products are cholesterol-free food with no trans fatty acid, as well as highly convenient in terms of storage. Most of all, the product obtained a reputable Halal status from Majelis Ulamak Indonesia (MUI), which is a recognized foreign Halal certification bodies by JAKIM.'
The coconut milk is available in 200ml packs with recommended price of RM2.90 each, and are also sold in cartons of 24 packs. It will be available on shelves in major hypermarkets & supermarkets (in Peninsular Malaysia) as well as online E-Commerce platforms from 15th of October 2022 onwards. For more information, please visit QSRT's website at www.qsrtrading.com.my or www.qsrtmart.com.my.