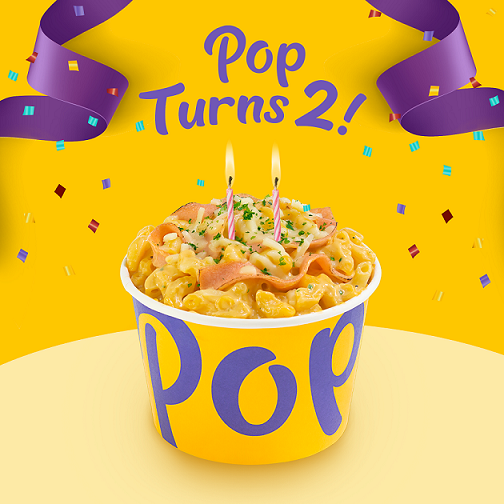 Celebrates 2nd birthday by giving away prizes worth over RM122,222 including iPhone 14 Pro
KUALA LUMPUR, 31 October 2022 – Malaysian-style fast food brand Pop Meals celebrates its second year anniversary with 81% percent returning customers rate.
Since opening its doors in November 2020, the Malaysian style fast food brand has served more than 2 million meals through its 32 outlets. The brand owes its growing popularity to word of mouth and from an army of loyal customers who keep coming back.
Pop Meals General Manager Shaik Ali Bajunid said that 8 out of 10 Pop Meals customers return within days to buy the next meal and most new customers hear about the brand from their family and friends.
"This is very encouraging for us as the fast food industry in Malaysia is highly competitive and local consumers have long associated  fast food with pizza, burgers and fried chicken. Very few would think about Mac & Cheese, Salted Egg Buttermilk Chicken or even Nasi Ayam Kicap Sambal Gesek when it comes to fast food. The difference is that Pop Meals is serving tasty "made for Malaysian" fast food in a fast convenient manner" said Shaik Ali.
He explained that when Pop Meals entered the market two years ago, the brand knew that it had to offer something very special to stand out from the crowd. It started first with designing a menu that is entirely driven by customer data and feedback.
"POPular meals" are requested by customers and launched onto the "POP chart", a ranking of which meals are offered in any neighbourhood.  The meal positions are dynamic and change based on real-time popularity. Customers then vote to determine if the meal stays on the chart or is removed. Thousands of customers also leave feedback daily through the app to let the Pop Meals R&D chefs know how to continuously improve the meal so their favourites stay on the POP Chart.
This is just one of the ways Pop Meals has created an engaging brand that is far from the fussy, corporate fast food giants.
Another is through their gamified app experience, after each purchase, a customer is able to earn a dice throw to participate in the Pop Meals "Snacks & Ladders" game. Each throw moves them one step closer to earning rewards such as free drinks, snacks, desserts with the rewards value getting higher as the customers progress with the brand?
"Customers are excited to keep purchasing because the rewards are seasonal and get higher in value, the more purchases they make.  Our second anniversary will be the biggest giveway yet with more than RM122,222 in rewards given away in just one month including iPhone 14 Pro and all-year free meals",  Shaik said.
To participate, diners only need to order via the Pop Meals app or website www.popmeals.com.my. Every Meal entitles them to double dice rolls on the Snacks and Ladders game for a chance to win these exciting prizes.
About Pop Meals
Pop Meals is Malaysia's pioneer digital first, data driven fast food brand using artificial intelligence and guest feedback to drive and improve its menu offering. The digital ordering system is convenient for customers to order for dine-in, takeaway and delivery from their growing network of smart outlets. For more information, visit www.popmeals.com.my