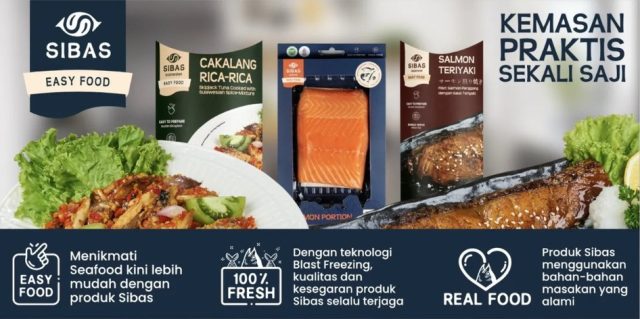 Seafood producer PT Pawon Sentra Tama (Sibas) has launched its latest Sibas Easy Food comprising Japanese and Indonesian foods at SIAL InterFood, which is being held in Jakarta on 9-12 November 2022.
The single-serve, frozen seafood includes Indonesian dishes made easy like Mackarel Cabe Ijo (Mackarel Fish Cooked with Green Chili ala Sumatra), Tuna Rendang (Tuna Fillet Simmered with Rich Coconut Milk and Spices ala Sumatra) and Cakalang Rica-Rica (Skipjack Tuna Cooked with Sulawesian Spice Mixture).
The Japanese seafood dishes comprise Gindara Miso Zuke Yaki (Gindara Fillet with Miso Sauce), Gindara Teriyaki, Saba Miso Zuke Yaki, Saba Shio, Salmon Teriyaki and Saba Miso Zuke Yaki.
These products target Indonesians who choose to prepare their meals at home.