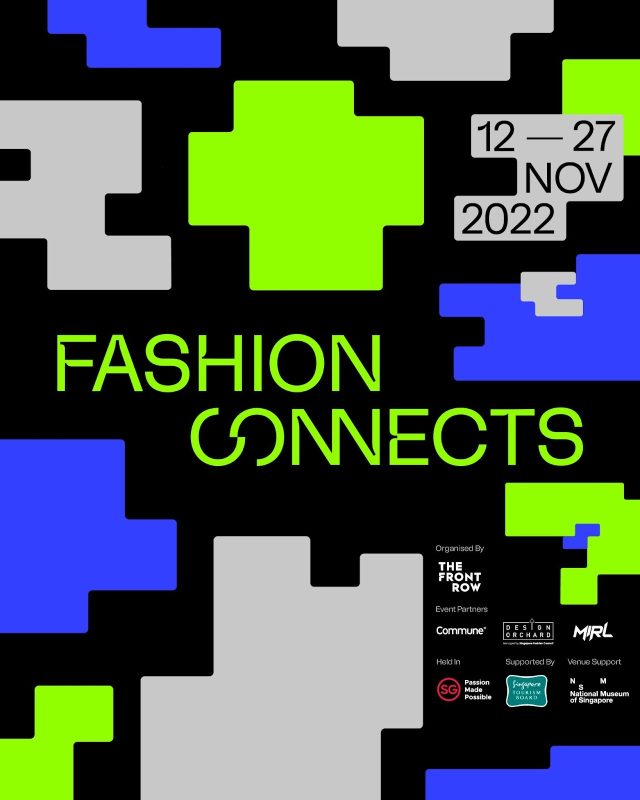 Supported by the Singapore Tourism Board, FashionCONNECTS presents a series of exciting and socially conscious fashion showcases and conversations, including a rescue dog runway show and a Metaverse-inspired fashion takeover of the National Museum of Singapore
Singapore, 15 November 2022 —  Local fashion festival TheFrontRowSG has announced FashionCONNECTS 2022, a two-week long programme running from November 12 to 27 at various locations across the island. FashionCONNECTS 2022 brings together Singaporean and Asian creatives in a series of collaborative activations, with a specific focus on sustainability, eco-consciousness and inclusivity — all to democratise fashion and make it more accessible to all.
Fronted by notable creative director Daniel Boey and supported by the Singapore Tourism Board, FashionCONNECTS seeks to establish a platform for young designers and creatives with a wide array of viewpoints. At the same time, FashionCONNECTS wishes to democratise fashion and make sustainable, eco-conscious pieces more accessible to all.
Daniel Boey says: "I'm so excited to introduce the first edition of FashionCONNECTS. Aside from being a celebration of Singapore's fashion scene past, present and future, we also hope to use FashionCONNECTS as a platform to talk about several important issues that also happen to be close to my heart. The various programmes seek to support and promote local creatives, to push for inclusivity and diversity in the fashion industry, and to advocate for rescue dogs. I hope that FashionCONNECTS can help to further these important conversations, while also providing an exciting series of fun events for all."
Ms Guo Teyi, Director, Retail and Dining, Singapore Tourism Board, says: "Events such as FashionCONNECTS2022 are important platforms for local designers to showcase their creations and explore emerging trends such as sustainability, the metaverse, and inclusive wear. Apart from profiling Singapore and our brands to the world, FashionConnects2022 also enriches our stable of authentic, differentiated and meaningful experiences for both locals and tourists to enjoy."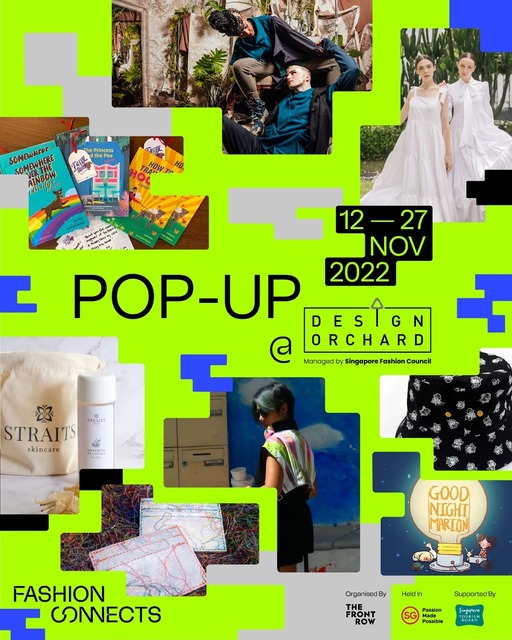 Some highlights of the programme include a retail pop-up at Design Orchard featuring some of Singapore and Asia's best designers and their creations — all of which are sustainable and cruelty-free. Some of the brands on display during the pop-up include JUDE, the namesake fashion label of Melbourne-based Singaporean designer Jude Ng who focuses on relaxed, gender-neutral tailoring using natural fibres and traditional techniques, Coterie by Celest Thoi, a casual-chic line by the eponymous designer that reimagines luxurious white cotton into gorgeous, multi-functional everyday wear, as well as IKV, which produces one-of-a-kind streetwear pieces out of repurposed and upcycled materials.
Dog lovers, this next one's for you! Furry Tales by Leia is a series of children's stories inspired by rescue dogs, written by Daniel Boey himself for his beloved adopted rescue dogs. The day's headline feature is a rescue dog runway show, which is as wondrous as it sounds. Rescue dogs from various Animal Welfare Groups, alongside children and their dog-loving families, will head down a runway as they model selected pieces from The Animal Project. After the show, there will be a fireside chat and book reading from the eponymous book itself! Dog lovers can also look forward to a styling workshop — which features adorable doggie-and-owner twin sets — and special pop-ups from creative design agency Black Mongrels and from custom small-batch crafts store The Eccentric Elephant. Plus, for this day only, Design Orchard will be dog-friendly: Dogs carried in a dog bag or in a pram are welcome into the store.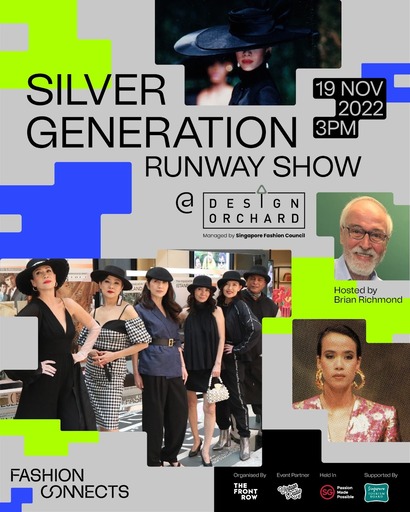 Furthering the idea that fashion isn't just the realm of the younger generation, there's also a Silver Generation Runway Show, a gorgeous showcase curated by — and featuring — more mature fashionistas. Hosted by the beloved veteran DJ Brian Richmond, starring iconic Singaporean models from the 1970s and 80s like Paris-based model Pat Kraal, and set to the backdrop of classic hits from the era, the show is just one of the ways that FashionCONNECTS wishes to promote inclusivity in the field.
The next event looks to start salient conversations about career opportunities and fine dressing among men in Singapore. Held in conjunction with career strategists Career Agility International and bespoke tailor Q Menswear, fashionCOMMUNE promises an insightful evening of conversation and a sartorial menswear trunk show — led by veteran tailors from Q Menswear — in the comfortable grounds of luxury homegrown furniture store Commune.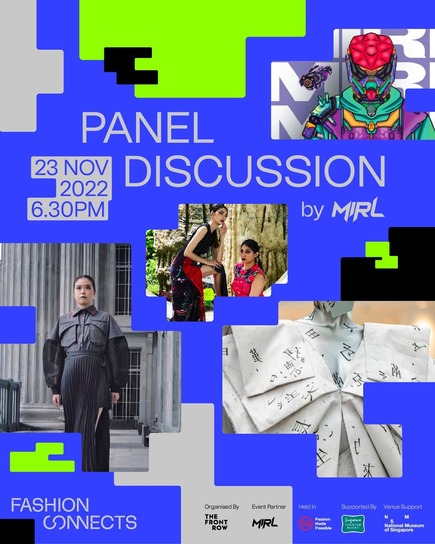 The festivities culminate in the FashionCONNECTS Museum*Takeover on the evening of  November 23, when the iconic National Museum of Singapore undergoes a dramatic transformation into a live runway. The event places a specific emphasis on featuring an incredibly inclusive slate of designers and models, including plus-sized models and gender-fluid models. At the show, the next generation of Singapore fashion talents — co-curated with MIRL, a decentralised fashion brand for the Metaverse — will showcase some of their best work, alongside interactive installations, and panel discussions on the future of fashion in the Metaverse.