South Korea's Shinsegae Food said on 27 November 2017 that is has formed a 50-50 joint venture with Malaysia's Mamee Double-Decker, which also has an existing joint venture with Japan's DyDo Drinco Inc.
Halal is the key focus
Both joint ventures focus on tapping Mamee's expertise in halal food and beverage production, turning Malaysia into the halal hub and as a springboard for Japanese and Korean food and beverage firms to tap the wider market.
The latest joint venture on halal food with the South Korean company complements Mamee's existing partnership with DyDo Drinco in the chilled and beverage market.
As part of the partnership, Shinsegae will provide its know-how for restaurant and bakery operations and manufacturing technology on ramen and sauces to the Shinsegae Mamee joint venture, while Mamee will offer sales network, operational infrastructure and export support.
According to Shinsegae Food's press release, the first step is to launch a Korean-style ramen in Malaysia in the first half of 2018 using halal certified sauce developed by Shinsegae Food and noodles produced by Mamee.
In addition, halal-certified Korean-style seasoning and sauce will be exported throughout the Southeast Asian market. There is still one stumbling block. Presently, companies with products already certified halal by JAKIM in Malaysia are still required to apply for the halal certification with the Indonesian Ulema Council (MUI) before their products can enter Indonesia. This is a requirement set by the Indonesian National Agency of Drug and Food Control (BPOM) if the company wants to have halal information/logo on their product label. The halal logo must be obtained from MUI.
This may change as the Indonesian government has ended MUI's authority in issuing halal certification following the inauguration of the government's Halal Certification Agency, which is expected to start operation in 2018.
Korean ramen's popularity hampered by halal certification
Korean ramen has proven to be popular with Southeast Asian consumers, driven by the continuous interest in all things Korean including pop culture, food and fashion. The export of South Korean instant noodles into Indonesia and Malaysia respectively surged to around USD 10 million in 2016, a big jump from 2015. The surge in demand in 2016 could be linked to the popularity of Samyang's fiery hot ramen.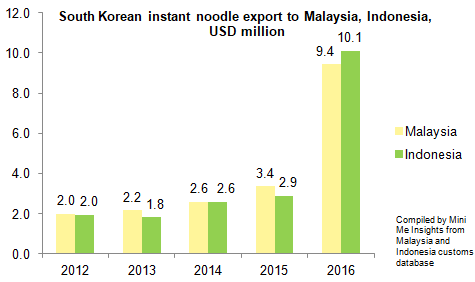 However, in Muslim-majority countries like Indonesia and Malaysia, Korean ramen has received the media spotlight for the wrong reason.
In June 2017, the permit for four Korean instant noodles including Samyang, imported by PT Koin Bumi, were revoked by the Indonesian Food and Drug Monitoring Agency (BPOM). The affected products did not have a clear label notifying consumers they contain traces of pork, said the food safety watchdog.
The debacle has hurt the sales of the authorised Samyang importer in Indonesia PT Korinus. To strengthen consumer trust and to end all debate concerning the halal status of the South Korean instant noodle, the Samyang instant noodle has finally been awarded the halal certification by the Indonesian body LPPOM MUI in November 2017, reported Tribunnews.com.
The Samyang products that are certified halal by LPPOM MUI are:
Samyang Hot Chicken Ramen
Samyang Hot Chicken Ramen Big Bowl
Samyang Hot Chicken Ramen Cup
Samyang Hot Chicken Ramen Cheese Flavour
Samyang Hot Chicken Ramen Ice Flavour
Samyang Hot Chicken Ramen Cheese Flavor Big Bowl
The lack of a local manufacturing presence is probably the reason why there is still a debate over the halal status of Korean instant noodles. This comes despite some of the Korean factories have already received the halal certification from the Korean Muslim Federation (KMF). The Shinsegae Mamee joint venture will hope to address this sensitive issue surrounding halal as the product will be made in Malaysia, a country known globally for its strong halal certification.
Korean sauces still not popular
Government trade statistics from Malaysia and Indonesia shows the import of South Korean sauces (HS 2103) is still not popular in the two countries but we do see a steady increase in demand in Malaysia. The growth is likely attributed to the foodservice channel with demand for sauces generated from the mushrooming of Korean food premises rather than for in-home cooking.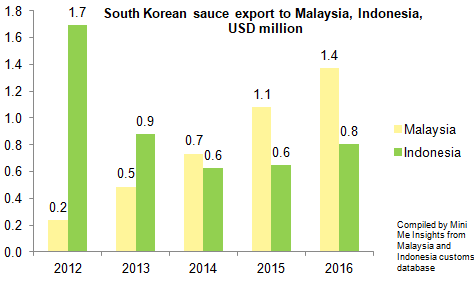 Even through the sauce market is smaller than instant noodle in Indonesia and Malaysia, the Shinsegae Mamee joint venture will provide consumers in the region with an option for halal- certified Korean sauces and seasoning.
What Mini Me thinks
The Shinsegae Food-Mamee joint venture is significant because it shows companies especially from North Asia are accelerating their push into halal, either going alone of through local partnership, to tap the huge halal market for food and drinks in the region.