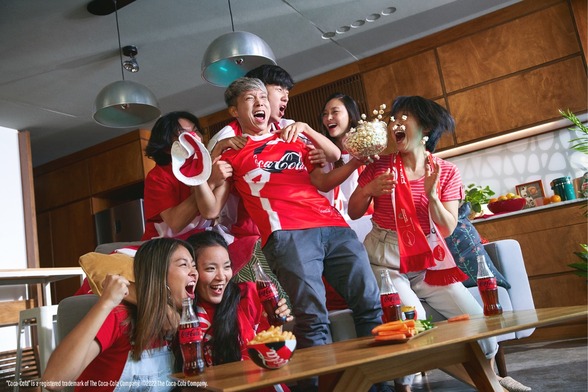 Friday 18 November 2022 – As FIFA World Cup Qatar 2022 kicks off on 20 November 2022, 'Coca-Cola' is inviting soccer fans to turn their homes into stadiums, while enjoying the freshness of 'Coke' Original Taste and 'Coke' Zero Sugar in the new limited-edition packaging during every game. Fans are also invited to scan QR codes on the new packaging to join FIFA Fanzone, the exclusive fan space filled with various games and activities, to show support for their favorite teams.
FIFA Fanzone is an exclusive gamified space that will connect you and other football fans throughout the world through various games to bring everyone closer together. 'Share Your Promises' enables fans to make promises on what they will do if their favorite team wins FIFA World Cup 2022(TM); 'Believers' Wall' invites fans to post their photos during each game, showcasing their fan spirit and other fun World Cup-related activities. Moreover, everyone can collect points for their team by playing games to flex some muscle and boast the rankings for their teams on the live leaderboard.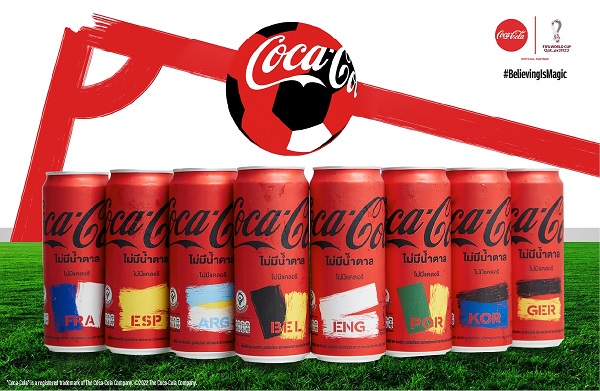 Apart from the launch of the new limited-edition packaging, 'Coca-Cola' also reveals the new TV commercial, telling the story of football fans getting together, cheering their teams with all their hearts together with 'Coca-Cola' that bring the magic of the sport closer to fans, under the theme 'Believing is Magic'. Moreover, to elevate the magic moment,  'Coca-Cola' kick offs the on-ground 'COCA-COLA STADIUM' campaign, inviting fans to turn their home into a stadium, as if they were watching pitch-side. Just purchase 'Coke' Original Taste, 'Coke' Zero Sugar, or 'Coke' Light, in PET bottles and cans by spending at least 99 baht per receipt, consumers will get the limited-edition 'Coca-Cola' can sleeve. The back of can sleeve features the national flag of favorite team, where fans can choose from eight worldwide fan favorites: Argentina, England, Germany, Belgium, Poland, Spain, Brazil, or France which consumer can customize and personalize to print their own names or short message. These activities will be held at leading department stores and shops, at participating branches. Keep updated with 'COCA-COLA STADIUM' activities at Facebook. For more details on the special promotion between 'Coca-Cola' and its partners throughout FIFA World Cup 2022, please scan the QR codes on the packaging to enter FIFA Fanzone.
Follow the campaign's news and activities at Coca-Cola's Facebook page. For more details on 'Coca-Cola', please visit: www.coca-cola.co.th.