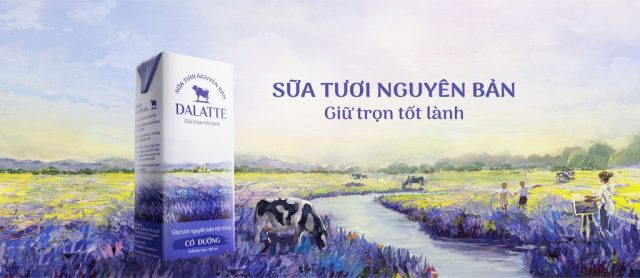 Dalatte Food Joint Stock Company has launched a new UHT milk range in Vietnam. The products comprise With Sugar containing 3.8% sugar content, Less Sugar with 2.8% sugar content and No Sugar. The company is based in Lam Dong, a province located in the Central Highlands region of Vietnam.
Dalatte plans to build factories in Da Lat, Binh Duong and Ha Nam in 2023 – 2025. The factory in Binh Duong will be put into operation in 2023. The company is also building a dairy farm in Lam Dong, which is expected to become operational in one year. Right now, the company is sourcing its milk from other farmers based on the 'clean label' standard.
Dalatte focuses on producing high-quality 'clean label' milk, which means Dalatte comes with a more premium pricing.
The recommended selling price of Dalatte milk is VND 276,000 for a box of 48 x 110ml or VND 432,000 for a box of 48 x 180ml. As a comparising Dalat Milk with a box of 48 x 180ml is selling at VND 365,000 on www.bachhoaxanh.com and Vinamilk Green Farm (48x180ml) is selling at VND 400,224 (discounted price VND 380,213) on its own website.