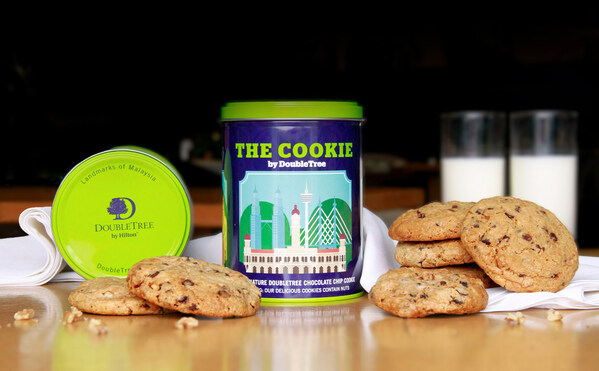 Special nationwide cookie tin series showcases Malaysia's architectural splendors
KUALA LUMPUR, Malaysia, Jan. 9, 2023 /PRNewswire/ — Everybody's favorite DoubleTree chocolate chip cookie celebrates the captivating Malaysian landmarks with its brand-new look.
The new DoubleTree cookie tin makeover is a tribute to Malaysia's unique eclectic architecture. From beacons of modernization such as the Petronas Twin Towers, relics from the 20th century British-run colonial era, the iconic 143 feet golden Hindu deity statue, and ancient 7-story Chinese Pagodas, the cookie tin celebrates Malaysia's architectural splendor together with its delicious signature chocolate chip cookie.
Following the success of localizing their campaigns through the pandemic they realized how their brands resonate within the market, and want to further achieve brand presence as they continue to grow their brand in Malaysia.
Perfect for gifting and personal souvenirs, bring home the Malaysian Landmarks DoubleTree cookie tin now available at all DoubleTree's nationwide including the newly opened DoubleTree by Hilton Shah Alam i-City and DoubleTree by Hilton Damai Laut or visit EatDrinkHilton.com to get it delivered to the doorstep.
The Malaysian Landmarks cookie tin is the beginning of a collectible series designed to highlight the country's unique cultural wonders. Stay tuned for more.