Singapore, 16 January 2023 – The Lunar New Year is a celebration of spring and new beginnings. Happening now until 5 February 2023, Raffles Place is celebrating this joyous and festive occasion with brightly-lit installations within the Central Business District. To usher in good fortune and abundance, parade through interactive oriental decorations and make them come alive by deciding on the colour displays and music. You can find these interactive Instagrammable displays at six locations around the Raffles Place precinct.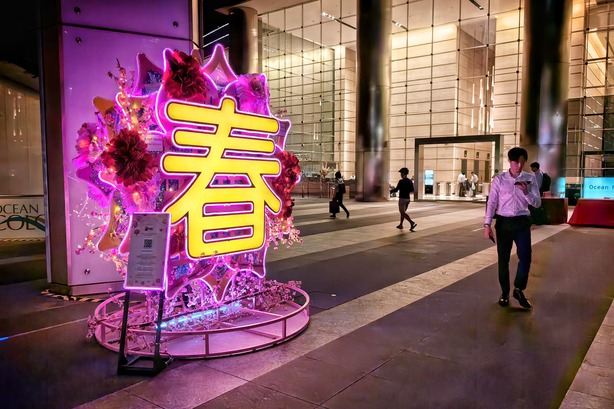 Inspired by the designs of Chinese words, chun, 春; fu, 福; and ji, 吉, these installations come together to symbolise new beginnings, blessings and prosperity for all visitors. They are also beautifully lit in red and gold and adorned with cherry blossoms to welcome the Year of the Rabbit – the fourth animal in the Chinese zodiac and said to be the luckiest out of all the twelve animals.
How to Enjoy The Interactive Installations 
Look for the six interactive installations around the precinct, from 7 PM to 12 midnight daily. As you exit Raffles Place MRT station, start off by visiting four larger-than-life decorations at Raffles Place Park. If you are joined by your friends or loved ones at the park, stay on for the evening and ready your cameras for more pictures in the night.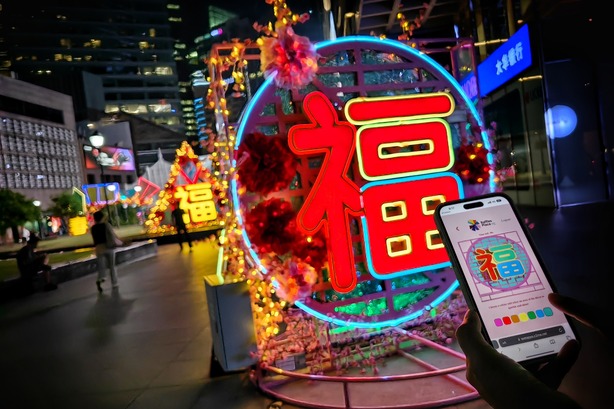 Then head towards six installations that will light up in a dazzling display of colourful lights. At these six locations, scan a QR code next to the installation and you will be able to customise the colours of the lights and watch the lights dance to your selected Chinese New Year songs on your mobile. You can choose from five different Lunar New Year tunes! Then, don't forget to share your experience on socials with the hashtag #RafflesPlaceSG.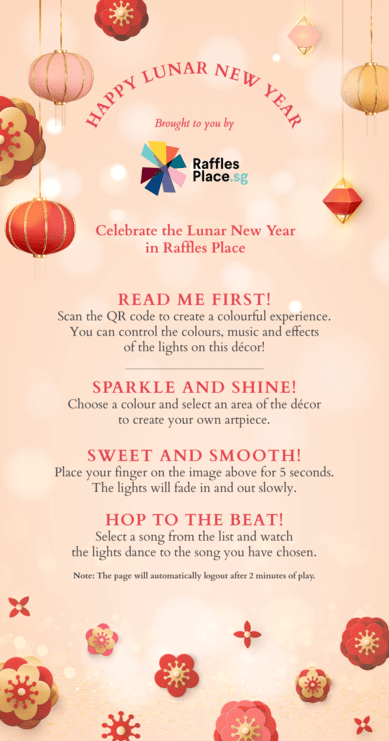 To control the lights on the installations, follow these simple steps:
Scan the QR code* next to the installation to interact with the décor.
To change the colours on the decor, choose an area of the décor to light up and select the light colour of your choice.
For added effect, place your finger on the image of the décor for 5 seconds to let the lights fade in and out slowly and change colours!
To make the lights dance, select a CNY tune from the provided list, then dance to the music and snap your best pictures!
*Each installation will have its own QR code and must be snapped on-site.'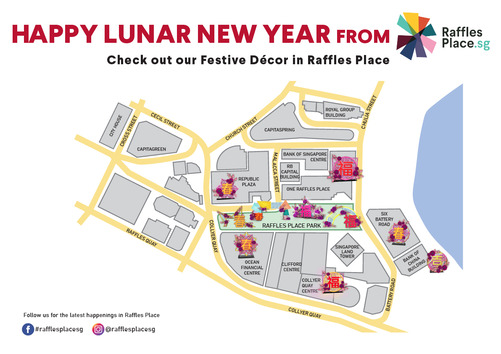 Aside from the beautiful decorations at Raffles Place Park, the interactive installations can be found at six other locations around the Raffles Place precinct – Bank of China Building, Collyer Quay Centre, Ocean Financial Centre, One Raffles Place, Republic Plaza and Six Battery Road.
As you journey through the precinct, be sure to take advantage of all the ongoing promotions happening this Lunar New Year!
Not-To-Be-Missed CNY Promotions in Raffles Place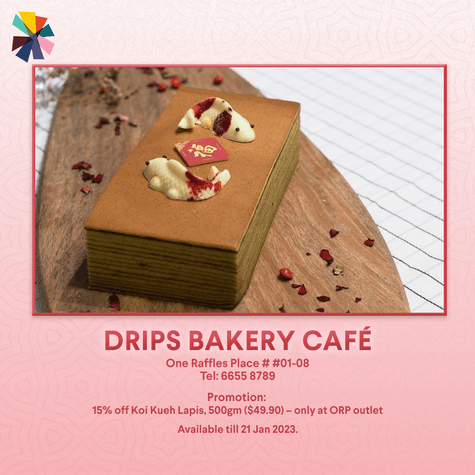 While you're outdoors celebrating the Lunar New Year, go on a little shopping spree at One Raffles Place and enjoy some irresistible festive promotions. For instance, get 15% off when you purchase Drip Bakery Cafe's special Koi Kueh Lapis at $49.90. Made from the freshest ingredients, this traditional thousand-layer cake features the iconic Chinese fortunate symbol, along with a festive design of prosperity koi fishes decorated on the top.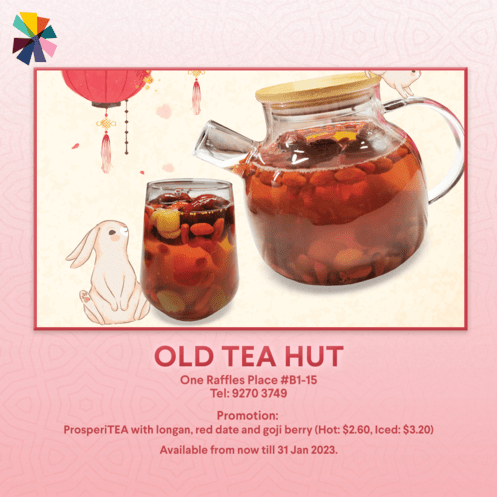 Take a breather during lunchtime as you drop by Namino Hana at the basement of One Raffles Place to enjoy a special meal of Salmon and Chicken bento. An exclusive bento combination priced at $15.80, this set comes with a choice of salad or drink. Then, wind down for the evening as you relax in Old Tea Hut and enjoy a pot of delicious ProsperiTea infused with fresh longan, red dates and goji berry. This tea is available to enjoy hot for $2.60 and iced at $3.20.
Head on down to Ocean Financial Centre, where a chun, 春 interactive installation greets you at the entrance of the building. While in the vicinity, hop right into the new year with PAUL – a popular cafe not to be missed in Raffles Place. This year, PAUL is wishing all their customers prosperity and good fortune with their auspicious red boxes of mandarin orange and royal yellow pineapple panna cotta tartlets. Receive complimentary red packets when you spend a minimum of $120.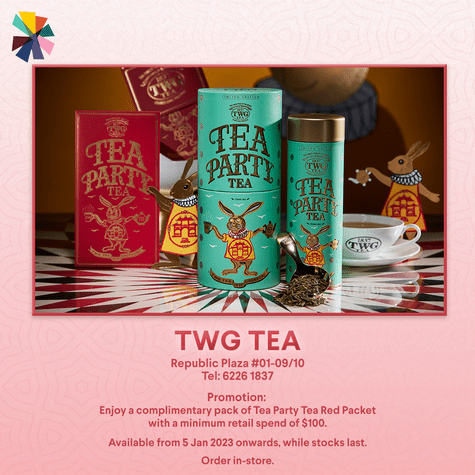 Republic Plaza offers an extensive range of Lunar New Year goodies. With a minimum spending of $100 at TWG Tea, enjoy a complimentary pack of Tea Party Tea Red Packet. Designed in a beautiful gold bottle encased with beautiful teal and gold imprints, this vanilla-flavoured black tea imparts both sweet and floral scents — it is the perfect drink to complement your favourite CNY goodies!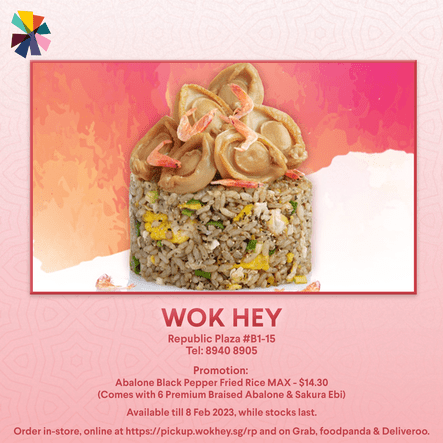 If you fancy a heavier meal, splurge a little with Wok Hey's CNY specials – The Abalone Black Pepper Fried Rice MAX, which comes with six premium braised Abalone and Sakura Ebi, is sure to tingle your taste buds! As exclusive as it sounds, this dish is available until 8 February and is priced at $14.30 each.
No festive celebration is complete with good beats! Bose SoundLink Flex Speaker is going at $221. Portable and waterproof, play your favourite CNY songs without any worries of food spillage. But fastest fingers first as this special offer ends on 22 January 2023!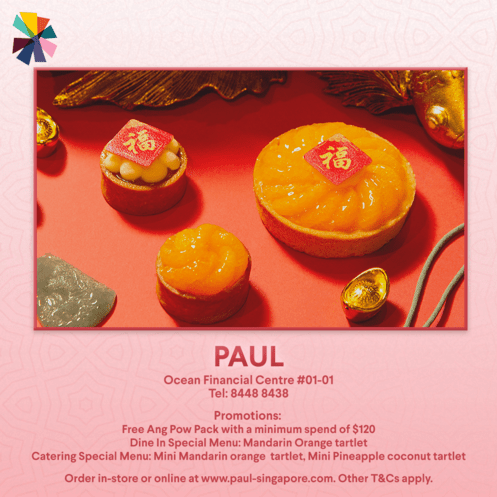 Lastly, if you're considering something different for your reunion dinner this year, visit Artemis Grill and Sky Bar at CapitaGreen. It is a chic rooftop restaurant where you will be able to dine amidst the lush greenery while enjoying the Singapore skyline with your loved ones. Enjoy their Lo-Hei set – available in the regular set with Salmon and Ikura Caviar, which is priced at $68 and serves 2 to 4 people. If you have a bigger party, opt for the premium set with Hamachi, Hokkaido Scallop, Salmon and Ikura Caviar which serves 6 to 8 people at $148.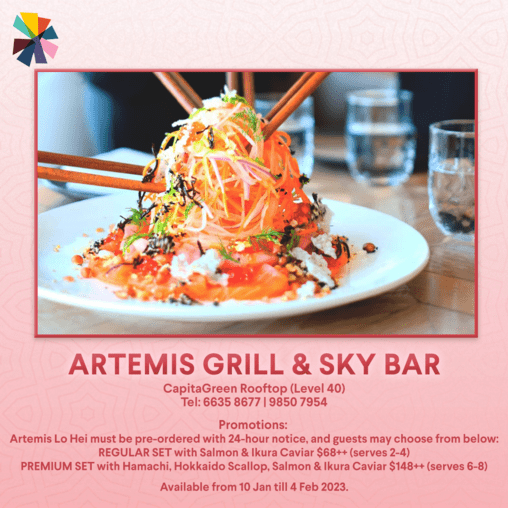 With all these beautiful decorations to see and irresistible promotions for grabs, head down to Raffles Place and enjoy the festive atmosphere.