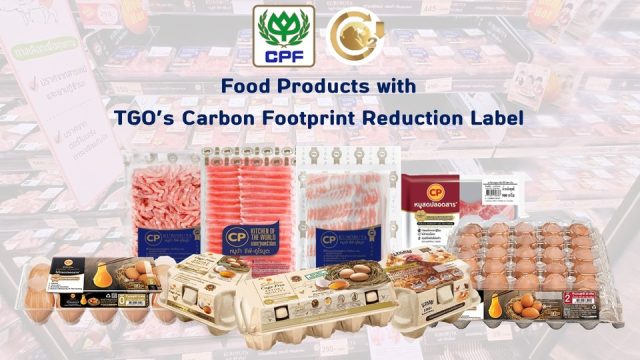 Charoen Pokphand Foods Public Company Limited (CP Foods) endeavors to develop food products with continuously decreasing greenhouse gas emission throughout its value chain to promote consumers' participation in the mitigation of greenhouse gas emission through their consumption. This year, the company plans to expand its product portfolio, including plant-based products, to certify climate-friendly products to meet growing consumer demand for sustainable foods.
So far, more than 800 products including pork, chicken, shrimp, and animal feeds, have received the carbon footprint certification and over 50 products, have achieved carbon footprint reduction or global warming reduction label from Thailand Greenhouse Gas Management Organization (Public Organization) or TGO, thereby reducing greenhouse gas emissions by 2.3 million tons of carbon dioxide equivalent.
Last year, TGO has certified CP Foods' twenty-three portfolio of fresh egg products, including Cage Free egg in various packaging sizes. It is estimated that fresh eggs with global warming reduction certification can help mitigate greenhouse gas emission by approximately 617,000 tons of carbon dioxide equivalent.
The company strive to continuously minimize greenhouse gas emissions throughout the value chain by applying advanced technology and innovation, as well as maximizing resources and energy efficiency. There is a continuous decrease in greenhouse gas emissions, resulting in increasing the number of low-carbon products. This year, the company selects plant-based nuggets, plant based minced meat and Thai basil alternative beef to quantify their carbon footprint.
The company has developed additional climate-friendly products through research and development of animal feeds to ensure nutrition that is suitable for animal growth in each age range, energy efficiency; and promotion of the use of renewable energy throughout the product processes and raw material acquisition. CP Foods has been assessing carbon footprint of its products in accordance with the international standards ISO14040, ISO14044 and ISO14067 by applying principles of product life cycle assessment.
CP Foods is committed to producing "climate-friendly products," or green products that address global warming reduction, with a goal of increasing the proportion of green revenue from 34% to 40% by 2030. This action aims to mitigate the impact of climate change and to ensure consumers with safe and nutrition food.