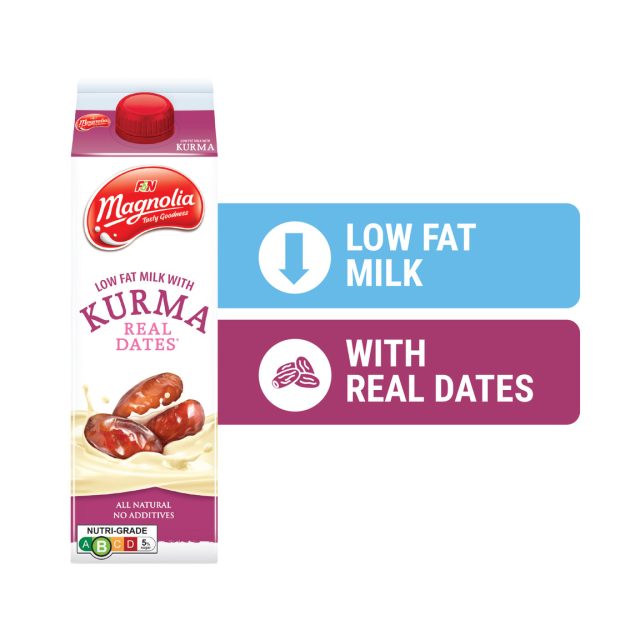 Gather with friends and family for a tasty favourite at iftar and sahur meals
Singapore, 30 March 2023    It is especially important to support the body's nutritional needs when fasting during Ramadan.  With the creamy and luscious taste of F&N Magnolia Low Fat Milk with Kurma, it is the ideal drink at iftar (breaking of the fast) and sahur (pre-dawn) meals during the fasting month of Ramadan. This all-natural and flavourful treat comprises two ingredients – low fat milk and real dates, with no additives.
Dried dates, also known as kurma to the local Malay-Muslim community in Singapore, is a familiar and a must-have staple at the dining table for communities around the world especially during the revered fasting month of Ramadan. Friends and families would gather alongside servings of kurma as they await the appointed time to break their fast when the sun sets beneath the horizon. It is also regarded as a fundamental source of nourishment to Muslims as they round up their sahur meals to prepare themselves for their daily fast before the crack of dawn.
Touted to be a beneficial superfood, the humble dried fruit is also consumed as a snack and included as a sweetener in many meals and desserts. The tiny date contains a high composition of carbohydrates, minerals, dietary fibre, fatty acids, and amino acids which are highly appreciated in the daily nutritional needs of humans1.
In various research studies and findings, the date fruit is noted to significantly possess antioxidants2. Compared to other dried fruits such as figs and plums, dates contain the highest polyphenol content which is a type of antioxidant3. Other types of antioxidants – vitamins A and K, are also found in high concentrations in dates which are essential in protecting body cells from oxidative damage.4
Dates are also a favourable source of potassium5 which is crucial among all the other necessary dietary minerals needed by the human body. Potassium serves as a vital electrolyte to assist the body to recover after strenuous physical activity. Researches have also found that consumption of the needful amount of potassium is associated with lower risks of stroke, osteoporosis, high blood pressure, and kidney stones6.
Iron, another critical mineral; is also found in dates. It serves to help in the formation of red blood cells in human bodies and is necessary in the prevention of anemia7. For those who are expecting and those who are breastfeeding their child, the date fruit is the perfect source of nourishment as it is found to increase breast milk production in the early postpartum days8.
This Ramadan, gather round with friends and family for iftar and sahur meals with F&N Magnolia Low Fat Milk with Kurma. Look forward to a spiritually meaningful month of fasting with the nutritious and delicious serving of pure goodness with F&N Magnolia, the trusted household brand for generations.
The 946 ml pack F&N Magnolia Low Fat Milk with Kurma is available at the Recommended Selling Price (RSP) of S$4.55 at leading supermarkets and hypermarkets.
For more information, please visit www.magnolia.com.sg or https://sg.fnlife.com/magnolia. Follow F&N MAGNOLIAon Facebook or @fnnmagnolia on Instagram for more updates.
1 The fruit of the date palm: its possible use as the best food for the future? Al-Shahib W, Marshall RJ Int J Food Sci Nutr. 2003 Jul; 54(4):247-59.
2 Zineb G, Boukouada M, Djeridane A, Saidi M, Yousfi M. Screening of antioxidant activity and phenolic compounds of various date palm (Phoenix dactylifera) fruits from Algeria Mediterranean. Journal of Nutrition and Metabolism. 2012;5:119–126.
3 Dried fruits: excellent in vitro and in vivo antioxidants. Vinson JA, Zubik L, Bose P, Samman N, Proch J J Am Coll Nutr. 2005 Feb; 24(1):44-50.
4 Reuter, S., Gupta, S.C., Chaturvedi, M.M., & Aggarwal, B.B. (2010). Oxidative stress, inflammation, and cancer: how are they linked? Free Radical Biological Medicine, 49(11), 1603-1616.
5 Mohamed Ali Al-Farsi & Chang Yong Lee (2008) Nutritional and Functional Properties of Dates: A Review, Critical Reviews in Food Science and Nutrition, 48:10, 877-887, DOI: 10.1080/10408390701724264
6 Lin, P. (2010). Micronutrient Information Center: Potassium. Linus Pauling Institute.
7 Bali Medical Journal (Bali Med J) 2018, Volume 7, Number 2: 356-360 P-ISSN.2089-1180, E-ISSN.2302-2914
8 El Sakka, A., Salama, M., & Salama, K. (2014). The Effect of Fenugreek Herbal Tea and Palm Dates on Breast Milk Production and Infant Weight. Journal Of Pediatric Sciences, 6(202).