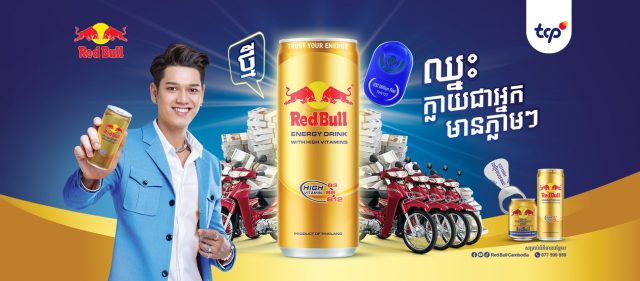 TCP Group has launched Red Bull High Vitamins, which is a new generation of Red Bull in a new slim can, in Cambodia. To support the launch of the energy drink, TCP has also unveiled a new campaign called "I'mPOWERED", a campaign that aims to inspire and elevate Cambodians, especially the young generation. The campaign encourages consumers to trust their inner energy, believe in themselves and make their mark in society.
The new 'Red Bull High Vitamins' is a 250ml serving, packed with a premium formula of nourishing vitamins, such as B3, B6, and B12 to help boost physical power and stimulate a courageous spirit.
Pop star Sovath Monivann is the new face of Red Bull in Cambodia.
Red Bull is also partnership with Pleng, a music-streaming platform by Smart. This collaboration gives music lovers a unique, exclusive, and dedicated listening and watching experience, with an additional chance to win great prizes. Pleng is the country's most downloaded music streaming app with more than 750,000 monthly active users.
People can now listen to the "I'mPOWERED Playlist", a curated list of songs to hype them up and lift their spirits, whether they're simply finishing tasks or breaking boundaries. The "I'mPOWERED Sessions by Red Bull", on the other hand, is the first-ever live motivational podcast in Cambodia. It's a platform where the hosts and guests from all walks of life talk about what empowers them and what fuels their energy.