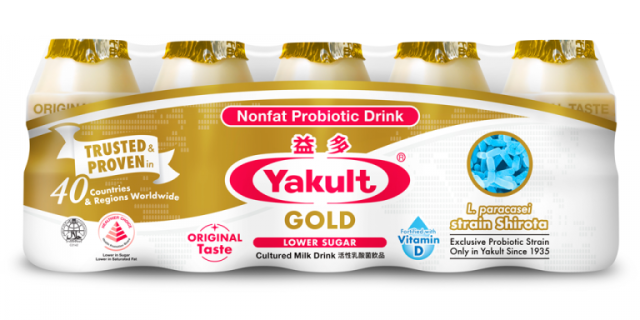 Yakult Singapore Pte Ltd has launched Yakult Gold is a Nutri-Grade B drink, containing sugar that is 5g or less per 100ml, enriched with Vitamin D which makes it beneficial for bone and teeth health and is a great option for those concerned about sugar levels in beverages.
Yakult's original recipe was given a 'D' rating by the Health Promotion Board (HPB) due to its 14% sugar content. This has promoted its arch rival Vitagen to taunt Yakult for the poor rating.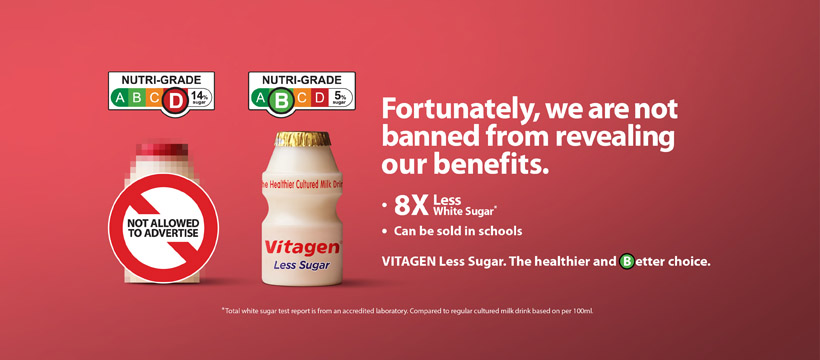 A beverage wih a 'D' rating, which has a sugar content exceeding 10g/100ml, is prohibited from being advertised in Singapore.
The brand's Yakult Light is available in schools, hospitals and through Home Delivery Service by Yakult Ladies. On the other hand, Yakult Ace Light and Yakult Gold are available through Home Delivery Channel and over-the-counter sales at supermarkets.
The latest addition comes with a retail price of SGD 3.70 per pack, available at supermarkets, stores and via home delivery by Yakult Ladies.
Singapore's Nutri-Grade is an effective and transparent tool to compel companies to reformulate their ingredients especially on sugar. Even though Nutri-Grade is only applicable for Singapore, Malaysian consumers will also benefit as brands usually use the same products for both markets.