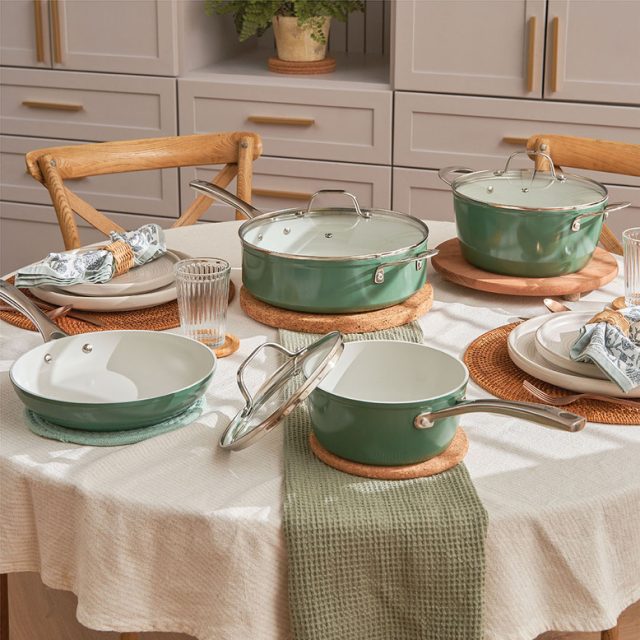 Get festive and cook like a pro with the new Cosmo set in Green Bean
Cosmic Cookware is here to add some sizzle to your kitchen with the launch of its limited
edition "Aidil" Cookware collection in the shade Green Bean, just in time for the Ramadan
Raya season. With the tagline "The ideal companion for any kitchen", the "Aidil" Cookware is providing busy urban home cooks with charming, non-toxic, and Swiss-certified cookware. This new collection is designed to make the kitchen experience easy and effortless, ensuring that cooking becomes a chore no more.
The Cosmo Set in Green Bean is the perfect addition to elevate your cooking space. These
essential cookware sets come in complementary colours that add flair to any kitchen. The
cookware is made to look good in any kitchen, prepare your favourite festive recipes, and clean effortlessly after every dish. The "Adil" Cookware also comes with limited edition cookware sleeves, making them a perfect gift for your loved ones during the festive time.
Cosmic Cookware is also introducing the all-new Cosmo Saucepan, exclusively available in
Green Bean. The Cosmo Saucepan is perfect for portions that are just right and is great to use for boiling, simmering, and sauce reductions. The non-toxic Swiss-certified cookware ensures that your food remains safe and healthy to consume.
The "Aidil" Cookware collection is now available for purchase on the Cosmic Cookware
website: https://cosmiccookware.com/. Add some zest to your cooking this festive season with Cosmic Cookware's limited edition "Aidil" Cookware collection – the ideal companion for any kitchen!
Click here to purchase Cosmic Cookware on Shopee.