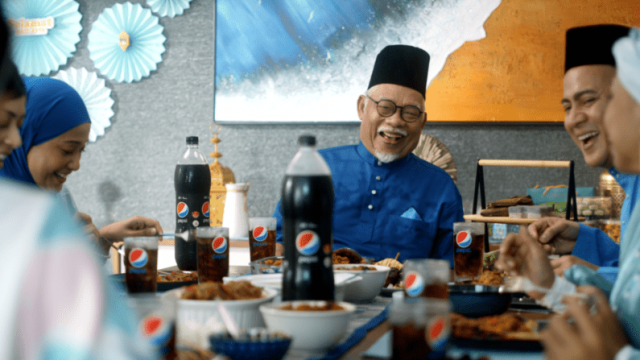 This Raya, Pepsi rallies Malaysians to go offline to be more present when reconnecting with loved ones while supporting the underserved communities
KUALA LUMPUR, 11 APRIL 2023 – Pepsi stays committed to creating real connections over mealtimes by launching its 'Build Real Connections' campaign this Raya. From now till 7th May, the campaign encourages Malaysians to go offline to focus on moments of face-to-face togetherness during the festive celebrations. 
The average Malaysian spends around eight hours and six minutes daily on the internet as of the third quarter of 2022.1 As a result, the same average Malaysian is on the pulse of every news and trend online. But are we just as present and connected with the most important people in our lives – our family members? The festive Raya season is usually a time to reconnect with loved ones, often over a fantastic spread of food. However, we have allowed smartphones and technology to disrupt the opportunity for us to be present and form real and meaningful connections with loved ones during mealtimes. Pepsi's Raya film takes this chance to remind us that the time we spend with our family and the real and meaningful connections with them is precious, therefore, reminding us all to focus on connections in real life, instead of the online world. 
"At Pepsi, we understand the value of sharing meaningful moments with our loved ones, especially during mealtimes. That's why we've launched our 'Build Real Connections' initiative, designed to encourage everyone to spend quality time and have meaningful connections with loved ones in a world increasingly dominated by digital distractions. As we approach a time when family bonds are more important than ever, we invite you to join us in making a conscious effort to be truly present with those who matter most, and to create lasting memories over shared meals," said PepsiCo Marketing Director, Mikey Rosales.
While being present and building real and meaningful connections with your families, pledge to go offline with Pepsi from now till 7th May 2023 for a good cause as well. For every hour offline, Pepsi, together with participating NGO partners, namely Kechara Soup Kitchen Society and The Lost Food Project will donate a meal care pack2 to the underserved communities. Each meal care pack can provide nourishing sustenance for at least one or up to six weeks to those in need.
"As the festive season of Raya approaches, we know that it's a cherished time for families to bond, celebrate, and show compassion to those in need. At Pepsi, we're proud to combine these heartfelt traditions through our 'Build Real Connections ' campaign. We invite you to pledge your commitment to rekindle the warmth of family gatherings while extending a helping hand to our communities. When you disconnect from digital distractions, we will donate meal care packs, and you will also stand a chance to win fantastic prizes! Let's embrace the spirit of Raya together", said PepsiCo Beverage Marketing Lead, Jennifer Lee.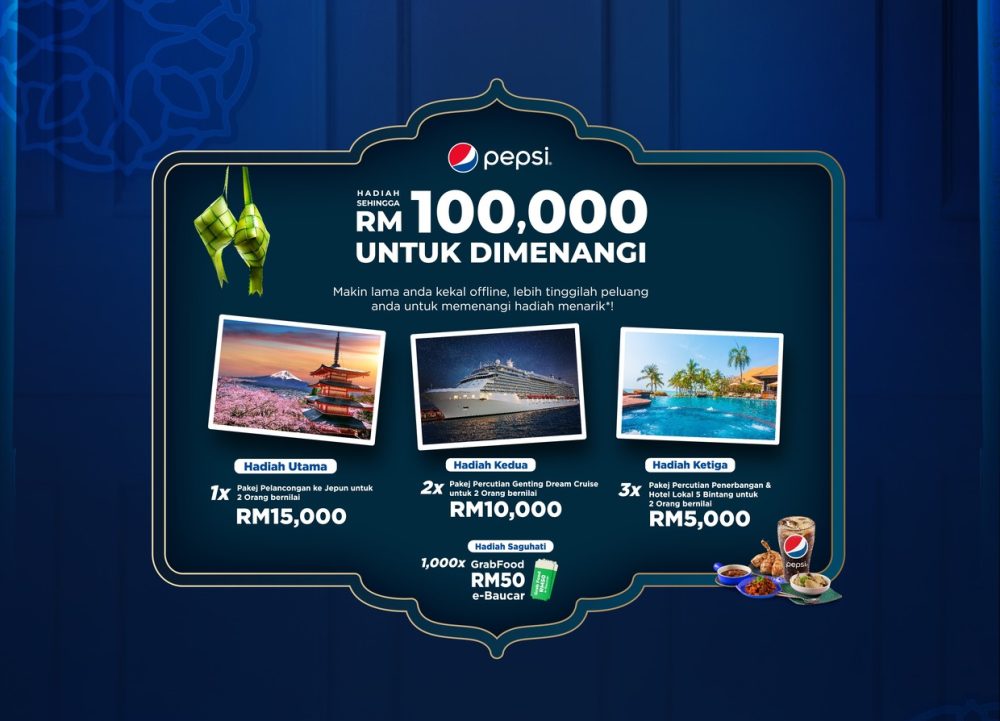 To participate, simply:
Scan the QR code or head over to the microsite: https://bit.ly/pepsioffline
Click 'Join Now' to go offline and put away your phone without touching it for up to 2 hours each time.
Accumulate as many offline hours as possible and the better chances of winning a trip to Japan, Grabfood vouchers & more! Terms & conditions apply.
Ready to be present and build real and meaningful connections this Raya? Scan the QR code to join now! For more information and updates, visit the Pepsi Facebook (https://www.facebook.com/PepsiMalaysia) and Instagram (@pepsimy) page.
1"Average time spent using online media in Malaysia in 3rd quarter 2022, by activity", Statista Research Department, Feb 27, 2023
2Up to 2,270 meal care packs will be provided that can sustain meals for at least one or up to six weeks