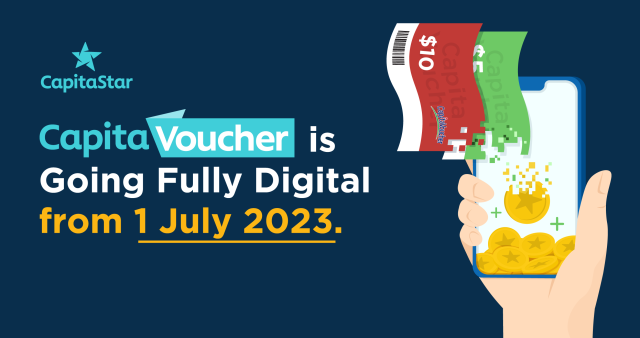 Acceptance of physical CapitaVoucher as a payment mode will cease from 1 July 2023
Consumers can convert physical CapitaVoucher(s) to STAR$® at 11 selected CapitaLand malls from 2 May to 30 September 2023
Singapore, 27 April 2023 – As part of its ongoing digitalisation efforts, CapitaLand is taking its shopping voucher, CapitaVoucher, fully digital.  From 1 July 2023, physical CapitaVoucher(s) will no longer be accepted as a mode of payment at retailers across participating properties.  This will be fully replaced by CapitaLand's existing digital shopping voucher programme eCapitaVoucher, which is available through the CapitaStar app.
Consumers who currently hold physical CapitaVoucher(s) are encouraged to use them by 30 June 2023 at the 16 participating CapitaLand malls.  Those who are unable to utilise their physical CapitaVoucher(s) by 30 June 2023 can convert them to STAR$® at an equivalent value from 2 May 2023 to 30 September 2023.  The STAR$® can be used to exchange for eCapitaVoucher, merchant deals or carpark redemption vouchers on the CapitaStar app.
Mr. Reuben Yong, Head of Digital Platforms, Retail & Workspace (Singapore & Malaysia), CapitaLand Investment, said: "We launched eCapitaVoucher in 2019 to complement and enhance the popularity of CapitaVoucher, and the digital shopping voucher programme soon took off.  Consumers relish the convenience of buying and gifting eCapitaVoucher 24 hours daily, receiving timely reminders about voucher expiry dates and redeeming their vouchers at various cashier points through the CapitaStar app.  Meanwhile, retailers gain access to a faster, more accurate and fuss-free voucher reimbursement process with a significant reduction in paperwork.  In 2022, sales of eCapitaVoucher grew by 29% year-on-year, and more than S$280 million of tenant sales were attributed to the usage of eCapitaVoucher as a payment mode."
"With the increasing consumer and retailer acceptance of eCapitaVoucher, it is timely to take CapitaVoucher fully digital as part of our overall strategy to enhance the digital capabilities of CapitaStar in providing value-adding services for consumers and retailers alike.  We will continue to innovate and reinforce eCapitaVoucher's popularity as Singapore's most widely accepted digital shopping voucher," added Mr Yong.