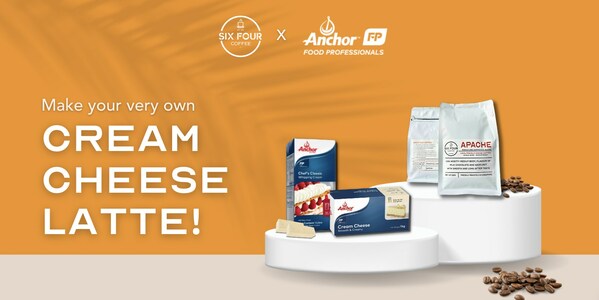 SINGAPORE, May 8, 2023 /PRNewswire/ — Six Four Coffee, a premium coffee roastery based in Singapore, is proud to announce its collaboration with Anchor Food Professionals, one of the world's leading dairy experts which creates fit-for-purpose products and solutions for foodservice professionals in over 50 countries. The collaboration is set to produce a new, exclusive recipe featuring coffee with cream cheese.
Six Four Coffee is known for its commitment to quality coffee, carefully sourced and roasted weekly in small batches to bring out the unique flavours of each bean. Recently, Six Four Coffee also announced its expansion to Malaysia. Anchor Food Professionals, on the other hand, specialises in creating exceptional dairy products that are tailored for the foodservice industry, designed to meet the high demands of performance and consistency day in and day out. Anchor Food Professionals offers an extensive range of premium dairy products, and also provides tailored recipes and training programs. Its Malaysia branch offers a wide range of high-quality dairy products to foodservice and hospitality customers, including butter, cheese, cream, and milk powders, which are widely utilised by chefs for various culinary applications, from baking and pastries to savoury dishes and desserts.
Together, these two brands are bringing their expertise and passion to create a new coffee experience that is sure to delight coffee lovers and foodies alike. The new recipe will feature Six Four Coffee's signature coffee house blend, paired with Anchor Food Professionals' rich and decadent cream cheese.
"We are delighted to partner with Anchor Food Professionals to create this exciting new recipe, and will be looking to bring this to our retail partners who are keen to add cream cheese latte to their menus" said James Kee, the founder of Six Four Coffee. "We believe that coffee and cream cheese are the perfect combination, and we can't wait to share this with more coffee lovers".
To commemorate the launch of the new cream cheese latte recipe and collaboration, Six Four Coffee and Anchor Food Professionals are excited to host a giveaway on Facebook and Instagram. The promotion will give 12 lucky winners the chance to try the new coffee and cream cheese recipe for themselves.
To learn more about Six Four Coffee, including their products and services, please click here. Follow their Facebook page and Instagram for coffee selection and roastery tips, and the latest product offers!
To learn more about Anchor Food Professionals, including their products and services, please click here.