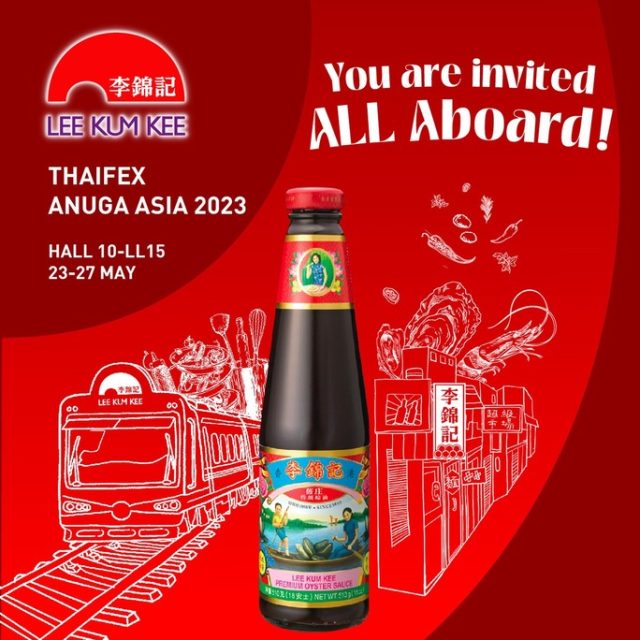 Monday 22 May 2023 – Lee Kum Kee, the inventor of Oyster Sauce and a globally renowned Asian sauce and condiment brand, will make its debut appearance at THAIFEX – Anuga Asia ("THAIFEX") – the Asia's largest and most comprehensive food and beverage tradeshow from 23 to 27 May 2023 in Bangkok, Thailand to continue to strengthen its presence in Thailand and Southeast Asia.
With the stringent quality management philosophy of "100-1=0" from farm to fork, Lee Kum Kee has become a world-renowned symbol of quality and trust. Lee Kum Kee upholds the spirit of Constant Entrepreneurship and has developed over 300 types of sauces and condiments for distributing to over 100 countries and regions. Lee Kum Kee is excited to participate in THAIFEX to provide foodservice solutions and innovative recipes to the visitors of the Asia's largest food trade fair.
Lee Kum Kee's booth will be located at Hall 10 (Booth no.: LL15, Fine Food Category) in IMPACT Muang Thong Thani. Themed "From Asia to Any Kitchen", the booth will be transformed into "LEE KUM KEE Flavour Express" which symbolises the journey of bringing the flavours of Asia to any kitchen around the world and is set to inspire new possibilities along the way. The Company's goal is to showcase the versatility and richness of Asian flavours through a wide range of signature products including oyster sauce, soy sauce, sesame oil and convenience sauces. LEE KUM KEE Flavour Express will also feature a series of engaging activities including cooking demonstration, product tasting and samples giveaway. One of the highlights will be the cooking demonstration by two celebrity chefs on 23 May – Chef Thanarak Chuto (Chef Pom) from Thailand and award-winning Master Chef Kwok-keung Chan from Hong Kong, China. They will present Asian delicacies with Lee Kum Kee sauces at the booth.
Chef Pom is second to none for Chinese food in the country. He offers contemporary Chinese cuisine with an emphasis on seasonal quality ingredients in Cantonese, Sichuan, Shanghai and Hong Kong styles. Award-winning Master Chef Kwok-keung Chan has over 35 years of culinary experience, he is an expert in the culinary styles of Huaiyang, Sichuan, Canton and Beijing.
Lee Kum Kee will also be the official premium sauce partner for the 9th Edition of Thailand Ultimate Chef Challenge (Asian Rice and Noodle category) with the aim of promoting culinary exchange, inspiring chefs on the diverse applications of Lee Kum Kee sauces and condiments and nurturing future culinary talents. The Challenge, which will take place at Hall 12 in IMPACT Muang Thong Thani during 23 – 27 May 2023, targets to bring over 700 professional and aspiring chefs worldwide to compete in 19 categories.
Join us to learn more about Lee Kum Kee's quality sauces and condiments at THAIFEX:
Booth: LL15, Hall 10 (Fine Food Category)
Venue: IMPACT Muang Thong Thani, Bangkok, Thailand
Date: 23-27 May 2023
Trade Visitors: 23 – 26 May 2023 10:00am to 6:00pm;
Trade and Public Visitors: 27 May 2023 10:00am to 8:00pm