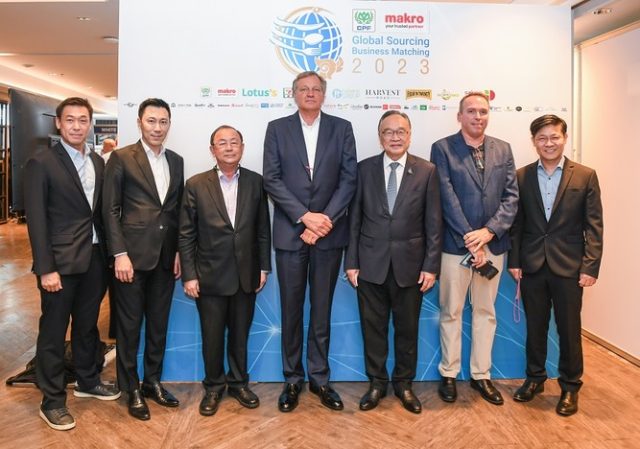 CPF Global Food Solution Public Company Limited (CPFGS), the leading global food solutions provider engaged in food products and services, partnered with CPF Food Network Co., Ltd, and Makro to host the Global Sourcing Business Matching 2023. This event served as a platform for high-quality food producers and business partners from around the world to showcase and trade a diverse range of food products while engaging with CPFGS and Makro's business groups.   
Held at Marriott Marquis Hotel in Bangkok from May 29-30, 2023, the event provided a unique opportunity for top-tier food producers and international business associates to present a wide spectrum of food products and interact with CPFGS and Makro's business entities.   
Kritsada Mapaisarnsin, Director for International Trade for North America, Australia, and Oceania at CPF Food Network, highlighted the immense potential of CPFGS's worldwide network and distribution channels. Leveraging these resources, the event aimed to maximize global business opportunities for partners from various nations, including Australia, Poland, Japan, the US, Chile, and ASEAN countries. The forum also functioned as a Global Trading Platform, ensuring Thai consumers have access to world-class food innovations.   
Richard Dean Lovell, Director of CPF Australia Pty Ltd., echoed this sentiment by emphasizing the alignment of the event with the 3-Benefit Principle for Sustainability advocated by the CP Group. This guiding principle prioritizes benefits to the host nation, societal contributions, and corporate advantages, in that order. The Business Matching event was strategically designed to open new market opportunities for business partners worldwide, promoting mutual growth while introducing Thai consumers to a diverse array of high-quality products, including premium meat and wine carefully curated by CPFGS's team from around the globe.  
Somchai Ketchaikosol, Director at CPF Food Network, expressed his excitement that the event continued the success story of THAIFEX 2023. This year's collaboration between CPFGS and Makro witnessed the participation of 45 suppliers from various countries, a significant increase from the previous year's 30 participants. The event received high praise from partners who appreciated the opportunity for intimate negotiations with CPF group companies and international businesses.   
Spanning two days, the Global Sourcing Business Matching 2023 event facilitated business discussions with CP affiliates on the first day and with general partners on the second day. The event agenda included activities such as Business Matching, a food exhibition booth, and an awards ceremony honoring partners of CPFGS and Makro. It provided an expansive platform for growth and consumer choice.