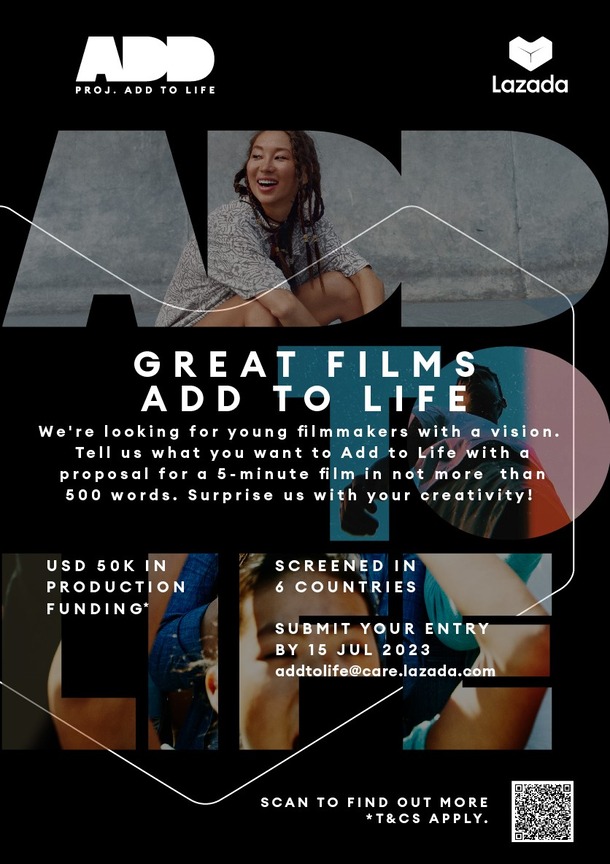 Kuala Lumpur, 23 June 2023 – Southeast Asia's pioneer eCommerce platform, Lazada will be making one visionary short film proposal a reality for aspiring student filmmakers with its Proj. Add to Life film festival that kicked off concept submissions on 22 June.
Student filmmakers in each of the six Southeast Asian countries where Lazada is based will have an opportunity to express and interpret what the phrase 'Add to Life' means to them by submitting their ideas and concepts to win funding that will make their film a reality. The short film festival will also showcase the unique perspectives of Southeast Asia's next generation of filmmakers with the diverse audiences that live in this vibrant region.
"At Lazada, we believe that shoppers today are no longer just buying products for functional uses. Our brand proposition, 'Add to Cart. Add to Life.', which was launched a year ago underlines our belief that we can inspire meaningful connections and memorable experiences for consumers with their purchases. The Proj. Add to Life film festival is a perfect opportunity for young consumers, budding filmmakers, and creative visionaries to share with us what 'Add to Life' means to them and we are excited to be working with award-winning Malaysian directors, Maurice Noone and Sling Ng to bring these compelling stories to life," said Irene Cheah, Chief Marketing Officer, Lazada Malaysia.
Instead of judging the short films only as finished products, Proj. Add to Life entries will be evaluated from concept to screening. One winning pitch from each of the six countries will be greenlit and the directors given a once-in-a-lifetime chance to bring their visions to life on the big screen.
The winning pitch stands a chance to win up to USD50,000 (approximately RM230,000) in production funding, as well as the chance to co-create and realise their vision with the support of industry leaders and renowned directors. Lazada will screen all six Proj. Add to Life short films in a film festival, organised in the six countries, which will give the filmmaker an opportunity to showcase their creativity across the region.
Proj. Add to Life is open to all students attending universities and colleges around Malaysia, regardless of the course they are attending. Aspiring student filmmakers will have to submit a brief synopsis and a sample script for a short film not longer than five minutes in their submissions. Submissions will also require an overview of filming approaches and a rough breakdown of how the production budget will be spent.
The winning pitch will go into production in August and premiere on 29 September 2023. Students can submit their "Proj. Add to Life" entries by emailing [email protected]. Submissions may be in PDF, Microsoft Powerpoint, Apple Keynote, Google Slides, or any other digital format that best captures their vision. The call for submissions will close on 15 July 2023 with the winner announced by August.
Submissions will be judged by a panel comprising Lazada figureheads, creatives, and renowned film directors and industry leaders, including Lazada Malaysia's Chief Marketing Officer, Irene Cheah and Head of Creative, Joseph Lee. Joining them are Directors Think Tank's film directors Maurice Noone and Sling Ng.
To find out more about submission requirements, please visit https://lzd.co/myaddtolife.