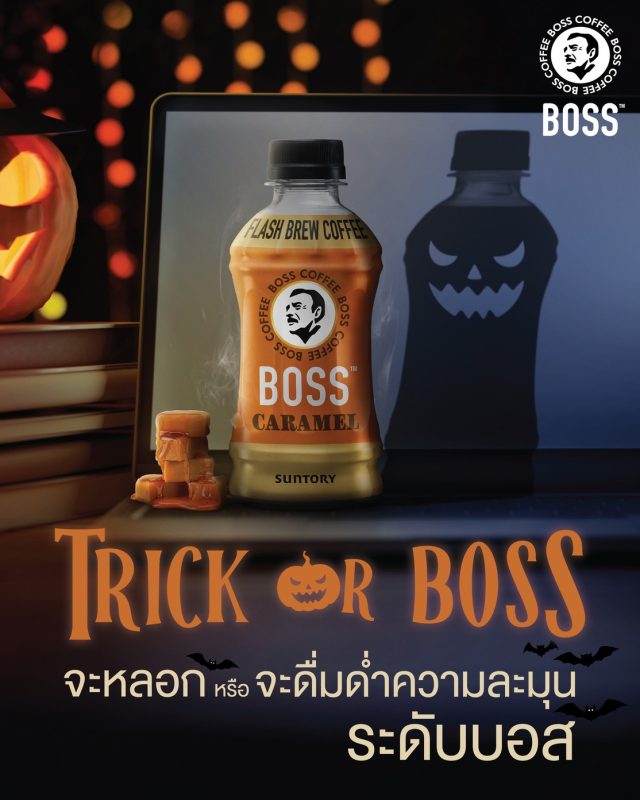 Friday 27 October 2023 – The ready-to-drink "BOSS Coffee" brand from Japan by Suntory PepsiCo Beverage (Thailand) is winning the hearts of both working-age coffee lovers and cafe hoppers. Get ready for a fresh coffee-drinking experience that brings you the authentic taste of premium Arabica beans with BOSS-like quality in cafe style. Guaranteed by the top-selling spot of ready-to-drink coffee in Japan, with 'BOSS Caramel Latte,' a premium ready-to-drink coffee brand featuring a new recipe. Presenting, the 'flash brew' coffee making technique by rapid infusion hot water over coffee grounds by immediately cooling it down to bring out the perfect combination of richest flavor, smoothness while preserving its aromatic qualities.
From production standard of Suntory (Japan), inspired by one of the all-time favourite coffee menu, combines the roasting and blending processes of coffee bean which is the distinctive feature of 'BOSS Coffee'. The alluring sweet aroma of caramel along with finest-quality milk, experience the delicious taste, richest flavor, smooth texture, delicately aroma, lightly sweet, well-rounded favor, and easy to drink. Each of these elements make 'Boss Caramel Latte' a perfect choice for coffee-lover who seek a finely balanced flavor, with the aim of inspiring others every sip, every single day.
Join us to enriching flavor of premium Arabica coffee with 'BOSS Caramel Latte' today, in the form of a PET ready-to-drink bottles with a 250-ml bottle available at 35 baht, exclusively available at all 7-Eleven convenience stores nationwide. For more information, Facebook: Boss Coffee Thailand and, enjoy our special featured single, 'It's Time', available on YouTube at BossCoffeeThailand.