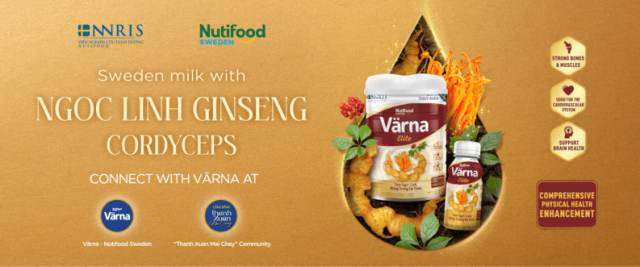 Vietnam's Nutifood has introduced Värna Elite, a food for special medical purposes to be used by patients under medical supervision. Varna Elite is specially formulated to provide a comprehensive physical health enhacement with ingredients to support brain health, heart health and bone and muscle.

This product is researched & developed by NNRIS (Nutifood Nutrition Research Institute in Sweden), specially formulated for the Vietnamese.
Varna Elite contains Ngoc Linh ginseng, which is described as a national treasure in Vietnam. This precious ginseng contains up to 52 saponin compounds, 17 amino acids and more than 20 micro-minerals, helping to increase immunity, fight fatigue and recover health.
Nutifood has a 51% stake in Ngoc Linh ginseng farm (Quasapharco) in the central province of Vietnam. Quasapharco had grown 47,000 ginseng plants on 7.1 hectares as of 2021. Having a majority stake in the ginseng company provides Nutifood with a stable source of Ngoc Linh ginseng to offer Vietnamese consumers with high-value, ginseng-based nutritional products.
Vietnamese consumers especially the older ones are familiar with the health benefits of oriental medicinal herbs such as Ngoc Linh ginseng and cordyceps. We have seen how dietary supplements turn to trusted and familiar ingredients to appeal to the older audiences, while also combining with Western nutritional science to create a more comprehensive and nutritious product.
In Indonesia, Kalbe Farma's Entrasol Platinum contains the Pro-Fit Advance formula, which is fortified with olive oil, lower in sugar, low in lactose, high in protein and fibre, omega 3 and omega 6 as well as having 11 vitamins and 8 minerals. Olive oil is a well-known sunnah food or food mentioned as part of the Islamic eating practices.
In Vietnam, the users of Varna Elite are:
Adults over 45 years old, use daily to promote comprehensive physical health
Adults with anorexic problems or need to improve nutrition
Patients who need to recover
People who are intolerant to lactose
Use for children above 10 years old must be directed by a healthcare professional
Varna Elite is available in 3 SKUs – 850g can, 400g can and 237ml bottle.