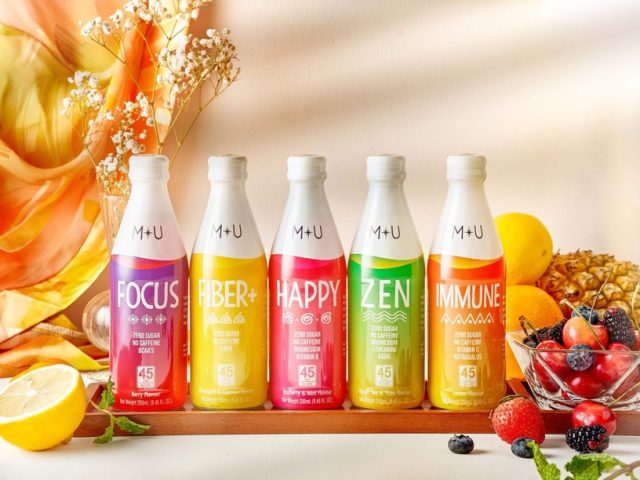 Tuesday 18 July 2023 – The Miss Universe Organization (MUO) is venturing into uncharted territory with the launch of M*U Beverage,a new business venture underthe brand name "M*U". Guidedby the vision to bring smarter hydration to people worldwide through exceptional products that both refresh and nourish them the product lineup comprises of M*U N?R Natural Alkaline Mineral Water and M*U functional beverages initially available in 5 flavors. The star-studded launch event in Bangkok was graced by famous industry insiders, celebrities, and social media influencers, including Miss Universe 2022 R'Bonney Gabriel, Miss Universe 2005 Natalie Glebova, and Miss Universe Thailand 2022 Anna Sueangam-iam, among others.
Anne Jakapong Jakrajutatip, Chief Executive Officer of JKN Global Group Public Company Limited, and the owner of The Miss Universe Organization, said "The Miss Universe brand is universal – forever evolving beyond the limits of our imagination. M*U Beverage is the first Miss Universe branded product line that espouses our original values: empowering women to realize their ambition and build self-confidence as a catalyst for future success."
"In today's fast-paced world, access to quality beverages is essential for a better and healthier life. M*U Beverage understands that drinks play a vital role in daily sustenance, and we aim to offer a vast variety of daily quenchers to uplift daily life. With this mission in mind, we have created a line of premium hydrations. We worked alongside nutritionists and natural ingredients experts to research, test, and produce products that energize, refresh, and rejuvenate minds and bodies," added Anne.
M*U functional drinks are curated to offer a solution to the hustle and bustle of daily life. The entire product line is made from natural ingredients, containing zero caffeine, no sugar, no preservatives, and less than 45 kcal/bottle, available in 5 variations:
Zen: Green tea & yuzu flavor, made with calming magnesium, L-Theanine, and GABA to ease anxiety and stress.
Immune: Lemon flavor, made with Vitamin C and astragalus to boost the immune system.
Focus: Berry flavor, made with branch chain amino acids to help support cognitive function and focus.
Happy: Raspberry & mint flavor, made with Vitamin B complex and calming magnesium for mood and productivity.
Fiber +: Pineapple & coconut flavor, fortified with fiber to keep you fuller throughout the day.
M*U Beverage is also excited to launch M*U NØR Natural Alkaline Mineral Water, the first alkaline water offered in a bespoke glass bottle and bottled in Thailand. Sourced from the pristine springs of Reykjavik, Iceland, where the mineral water is some of the cleanest and purest in the world, M*U NØR Natural Alkaline Mineral Water is perpetually replenished with glaciermelt from the Olfus springthat has been filtered through layers of lava rock. With a pH of 8.4, M*U NØR is the epitome of freshness, offering remarkable health benefits through the presence of essential minerals like calcium, magnesium, sodium, and potassium.
Chosen as the presenter of M*U NØR Natural Alkaline Mineral Water, R'Bonney Gabriel stands as a genuine embodiment of the brand's core values, promoting a harmonious blend of beauty, vitality and well-being. Epitomizing the versatile modern woman, R'Bonney consistently demonstrates an unwavering commitment to nourishing her body and nurturing personal growth, even amidst her demanding schedule. Crowned Miss Universe 2022 as the first Filipino-American woman, R'Bonney plans to be the voice of change and hopes to inspire individuals far and wide to embrace their inherent beauty. M*U Beverage celebrates true beauty from within, providing consumers with strong healthy bodies and minds in order to be the best versions of themselves.
Embarking on a journey that seamlessly blends functionality and elegance, M*U Beverage will make its grand entrance in Thailand, with plans to capture the global market by the end of the year. Its global manufacturing hub boasts an impressive production capacity of 9 million units, serving as the epitome of excellence in beverage manufacturing, with over 400 recipes that cater to esteemed clients. As the demand for M*U Beverage soars, production capabilities will be easily scalable, ensuring a seamless experience for all cherished customers.