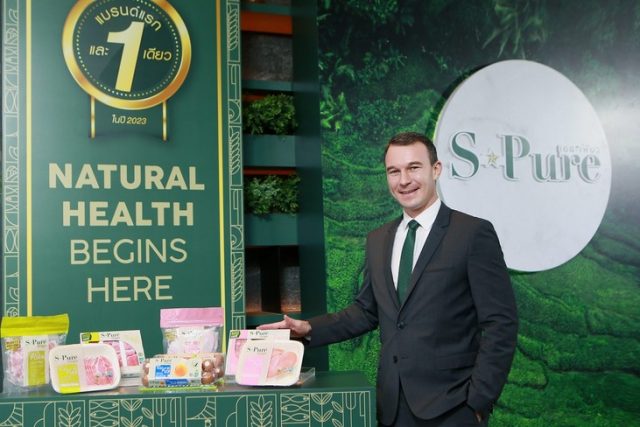 Wednesday 26 July 2023 – Betagro Public Company Limited or "BTG" invests 100 million Baht in re-launching its S-Pure brand with its new marketing campaign "If you want to live a natural lifestyle, S-Pure is your No.1 Brand".
The relaunch comes with a new and extended product varieties, improved packaging designs, the use of paper trays to reduce plastic waste, and an extensive communication campaign to inform customers about S-Pure's product benefits. S-Pure is the first and only brand in Thailand that has received RWA ("raised without antibiotics") certification from the NSF USA for all 3 product categories of pork, chicken and egg products, catering to health-conscious customers who recognize the importance of 100% natural pure products free from antibiotics and growth hormones.
S-Pure's new communication campaign specifically addresses a new generation of health-conscious concerned about nutrition and healthy lifestyles. With its new campaign and product re-launch, Betagro is set to grow the sales of its S-Pure brand by 17% this year compared to 2022, reinforcing its leadership in the super-premium food market.
Dr. Oliver Gottschall, Chief Operating Officer – Food business, Betagro PCL, explained that the super-premium food market is expected to reach a value of 57,100 million Baht in 2023, with consumer spend on meat growing by approx. 10% over the past 3 years. This is partly driven by an improving economy and tourism sector, but also by changing consumer behavior after the COVID-19 situation.
"Consumers are much more focused on taking care of their health, which includes an increased awareness of the benefits of high quality, clean, safe food from sources that can be traced back and trusted. Sustainability and environment are also strongly growing in importance.Our customers want to consume food that is good for the world and good for themselves."
S-Pure's brand relaunch comes with the launch of its new "S-Pure Prime" products, including home-style Vienna sausage, ham, bacon, as well as bologna made from pork and chicken. All products under the S-Pure prime label are produced free from preservatives, Nitrates, MSG and other chemical additives, less Sodium, using 100% S-Pure meat and natural ingredients, making S-Pure Prime the first "Clean Label Food" in Thailand.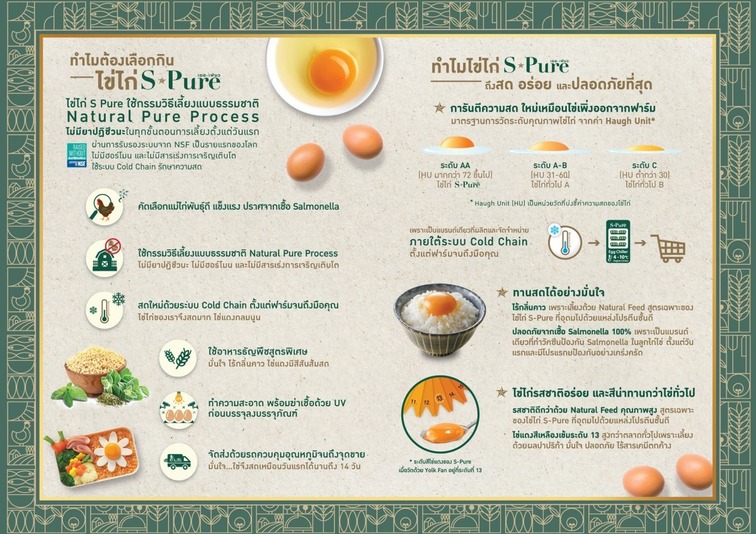 S-Pure is also the first brand in Thailand to introduce paper tray packaging to fresh food products, including pork and chicken products. Paper trays are made from 100% eucalyptus trees that come from planted forests (Forest Stewardship Council). The paper trays are designed to have the same functionality as plastic trays, but reduce plastic use by up to 80%. With a its modern look and feel, it reflects S-Pure's natural, fresh and safe product features.
Dr. Oliver further revealed that Betagro is committed to producing highest-quality food at a fair price: "We are proud that our S-Pure brand has been recognized by NSF as the first and only brand in Thailand that has received Raised Without Antibiotics (RWA) certification for all 3 product categories of pork, chicken and eggs. Our research tells us that customers value our products, which is also reflected in high brand loyalty and brand advocacy. In the recent Quality Advocacy Index, S-Pure reached advocacy scores of over 50%, highlighting our position as the leader in the super premium food category that consumers trust."
With its new campaign "S-Pure – The Natural Way", Betagro brings together famous artists and stars to share health care tips and cooking demonstrations. A special privilege program for loyal S-Pure customers is also going to be launched soon.
"The launch of the S-Pure campaign at this time not only reinforces our leadership in the super-premium food segment, it also meant to inspire people to enhance their lives through a healthier lifestyle. With Betagro's strong positioning as a producer of high-quality products, we expect S-Pure sales to grow significantly, making S-Pure an integral part of our brand portfolio and our aspiration to become a world-class branded food company," Dr. Oliver concluded.
S-Pure products are available at supermarkets and leading hypermarkets, Betagro Shop, Betagro Deli as well as online platforms such as Freshket, Grab, Lineman and Robinhood.