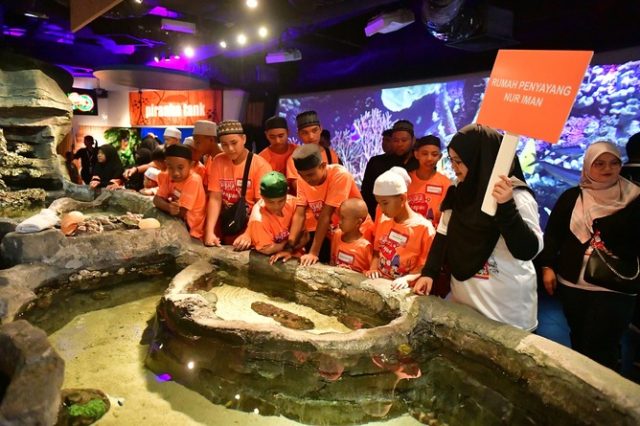 Kuala Lumpur, 3 August 2023 – AIA PUBLIC Takaful Bhd. (AIA PUBLIC Takaful) recently organised a memorable outing with 100 children from Pusat Jagaan Penyayang Nur Iman, Setapak, Pusat Kebajikan Amal Rukaiyah, Kajang and Pertubuhan Anak Yatim Darul Aminan, Seremban. 
Accompanied by 20 volunteers from AIA PUBLIC Takaful, the children who were between the ages of seven to 17 were treated to a day of learning and unwinding, as part of the company's 'Kongsi Rezeki' programme – a community initiative launched in 2021 in collaboration with the Malaysian Relief Agency.  
The experiential learning trip kicked off with a guided tour of Aquaria, KLCC where the children gained valuable knowledge about different marine and land-bound creatures. Additionally, the children were then brought over to Menara AIA where they had a great time watching a movie screening while indulging in a scrumptious lunch together with some treats.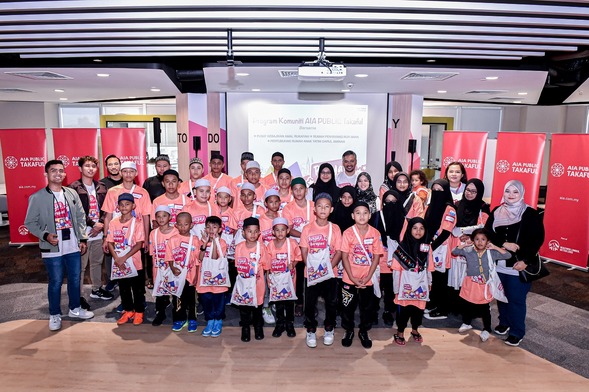 Commenting on the outing, Elmie Aman Najas, Chief Executive Officer of AIA PUBLIC Takaful shared that the Kongsi Rezeki programme was initiated with a focus on community wellbeing and enrichment, particularly the physical and mental wellbeing of underprivileged children.
"It's heartening to see the children enjoying themselves and being fully engaged in the activities carried out by our dedicated volunteers. We believe that experiential learning trips such as this not only helps brighten up their day, but also add meaningful experiences to their childhood. We are grateful to play a part in providing these children with opportunities that enhances their mental wellbeing, social skills and at the same time foster an appreciation for nature and the environment," said Elmie. 
The three orphanages are amongst the 10 beneficiaries enlisted under the Kongsi Rezeki programme. Through different phases of the programme, these orphanages have since received brand new laptops, living necessities such as bed frames and mattresses as well as other daily supplies worth RM420,000. 
The programme is part of AIA PUBLIC Takaful's Penyala Harapan campaign, demonstrating the company's dedication in supporting the community in realising their hopes and dreams to achieve Healthier, Longer, Better Lives. 
For more information on AIA PUBLIC Takaful's community initiatives and the Penyala Harapan campaign, visit www.aia.com.my