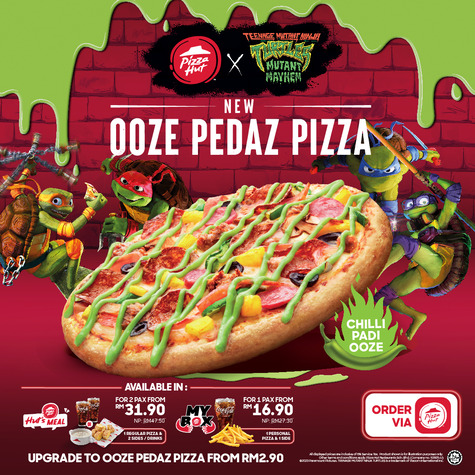 PETALING JAYA, 07 September 2023 – Pizza Hut Malaysia is proud to announce an exclusive collaboration with the iconic Teenage Mutant Ninja Turtles. In celebration of the heroes love for pizza, the pizza brand unveils its latest innovation: the Ooze Pedaz Pizza which will be available only in Malaysia from 7 th September 2023, for a limited-time-only.
The Ooze Pedaz Pizza features a generous drizzle of vibrant green specialty chilli padi sauce, making it a bold and spicy tribute to the beloved Teenage Mutant Ninja Turtles. This pizza is available exclusively in the Hut's Meal and MyBox combo, with five mouthwatering flavours to choose from: Ooze Pedaz Deluxe Cheese, Ooze Pedaz Hawaiian Chicken, Ooze Pedaz Beef/Chicken Pepperoni, Ooze Pedaz Island Tuna, and Ooze Pedaz Super Supreme.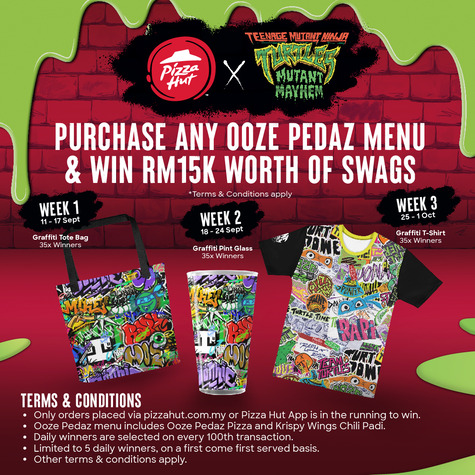 Pizza Hut Malaysia Chief Marketing Officer Emily Chong said "We are thrilled about this collaboration with the Teenage Mutant Ninja Turtles. The Ooze Pedaz Pizza pays homage to these legendary heroes and perfectly captures their adventurous spirit and love for pizza.
"While the franchise has collaborations with Pizza Hut all over the world, Malaysia is the only place with this one-of-a-kind spicy twist. We believe this limited-time offering will delight fans of both Pizza Hut and Teenage Mutant Ninja Turtles, unlocking an explosion of flavours that will surely satisfy eve the most daring taste buds," she said.
Join Pizza Hut in embracing the 'Cowabunga' energy and stand a chance to win up to RM15,000 in Teenage Mutant Ninja Turtles merchandise every time you make a purchase on the Pizza Hut website or via the mobile app.
This unique culinary creation is available for a limited time only, so don't miss your chance to embark on a pizza adventure like no other.
For more information and to stay updated on Pizza Hut Malaysia's latest offerings, please visit www.pizzahut.com.my or follow us on social media at @PizzaHutMY.