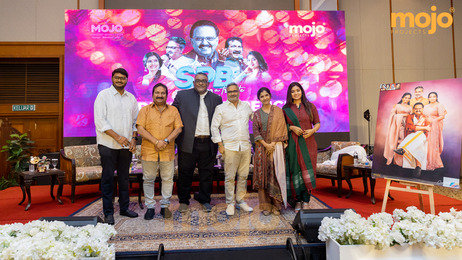 KUALA LUMPUR, 7th September 2023 – MOJO Projects, one of Malaysia's foremost names in the concerts and special events industry, today announced the fourth concert of the highly-rated MOJO Concert Series 2023 – Meendum SPB, set to take place on 9th September 2023 at Zepp Kuala Lumpur. The concert is touted as a tribute to the late legend of the South Indian music industry, SP Balasubrahmanyam, and most certainly promises to be a captivating trip down memory lane for fans of the late performer. 
As it was with the previous three concerts, Zepp Kuala Lumpur continues to be the venue of choice for the concert series, which aims to enhance the experience for concertgoers in a more intimate setting while bringing people together to fully immerse themselves in their favourite songs. Coming in hot on the heels of the electrifying MOJO Live Jam Concert in July, the Meendum SPB Concert will feature a musical compilation of the legendary SP Balasubrahmanyam's hits. These songs will be brought to life by an exciting ensemble of performers comprising of SP Charan, Mano, Anuradha Sriram and Srinisha – all of whom are renowned for their musical prowess and soulful vocals.
"The MOJO Concert Series 2023 has been and will continue to be the tangible representation of what we stand for as a company – as people who are diehard music fans ourselves, it is an honor to be bringing forth this experience for concertgoers on Malaysian shores," said Ratna K. Nadarajan, CEO of MOJO Projects Sdn Bhd. "Amidst the fanfare and noise, what we are truly looking forward to is an immersive overall experience, and we can't wait to take a trip down memory lane together with the rest of the fans in honor of the great SPB's music and legacy. If you are a music lover yourself, this is a heartwarming experience you certainly do not want to miss," he added. 
SP Charan is the son of the celebrated late SP Balasubrahmanyam himself and a jack of all trades – an actor, singer, producer, and director who has bagged various awards including the Tamil Nadu State Film Award for Best Male Playback. Mano is an acclaimed artist, securing the prestigious "Kalaimaamani" Award from the Government of the State of Tamil Nadu and the Tamil Nadu State Film Award for Best Male Playback. Anuradha Sriram is a renowned star in the music scene, securing the Filmfare award for the best playback singer while Srinisha, an established star in her own right, was a contestant on Super Singer Junior 2, and later Super Singer Champion of Champions with numerous hits credited to her name. 
Tickets to the concert will be available at www.excitix.com.my, or at the venue. Alternatively, contact 012- 2000505 for ticketing details.