School's out and fun's in! If you are at a loss for what to do this September holiday, fret not! From an amazing artistic adventure to mouth-watering treats and scrumptious feasts, we have got you covered. Fill up your calendar with these fun-filled activities for the whole family!
Appreciate the acoustics of Art and Heritage with Raffles Place Audio Tours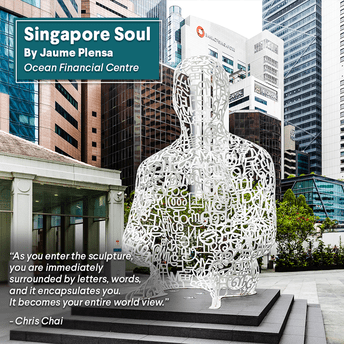 Embark on an immersive adventure – ART Tour, with the Raffles Place Audio Tours and discover the artistic beauty of Raffles Place like never before! Guided by local artist, Tim De Cotta, explore the district's picturesque sculptures by artists around the world. These masterpieces will be featured in 8 locations and 3 bonus stops, each lasting from two to four minutes for you to interact with these prominent pieces. Visit the iconic locations including CapitaSpring, Ocean Financial Centre, Republic Plaza and CapitaGreen. Alongside Tim, celebrated artists Weish, Marc Gabriel Loh, Jeanette Adrienne Wee and Chris Chai lend their voices to guide you through these chiselled monuments, a breath of fresh air against the buzz of Raffles Place. Gather your friends and family and get ready to be amazed by this enriching journey through Raffles Place!
For more information, visit Raffles Place Audio Tours.
Get active with Dance Party Workouts at Raffles Place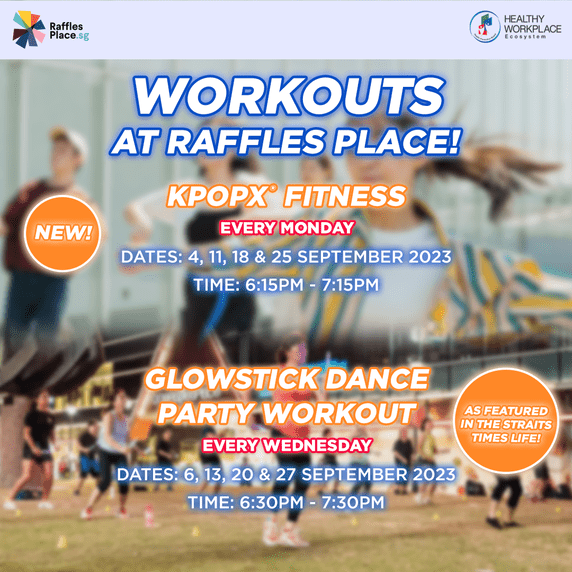 Chase away the Monday blues with KpopX® Fitness – the perfect dance workout that combines your favourite KPOP songs and signature moves. Every Monday from 6:15pm to 7:15pm, join your friends and family for a rejuvenating aerobic and body toning workout that will boost your stamina, coordination and flexibility!
On Wednesdays from 6:30pm to 7:30pm, get your blood pumping with the Glow Stick Dance Part Workouts. Light up Raffles Place Park as you jam to these mood-lifting tunes and work off those mid-week blues! Head over to Healthy 365 to sign up – hurry and don't miss out as slots are limited!
Visit their website at https://rafflesplace.sg/happenings/workout-with-us-in-raffles-place-in-september/ for more details.
Unwind and Grab a Delicious Bites Around Raffles Place

Embark on a mouthwatering gastronomical adventure around Raffles Place. Namino Hana at One Raffles Place serves up an authentic Japanese experience with their fast-casual bento box meals. Enjoy their house speciality, Chicken Teriyaki Bento with tender, saucy chicken teriyaki, served with a perfectly runny Ajitsuke egg, mushrooms and nori over a warm bed of fluffy Japanese rice.
Be greeted with the fragrant aroma of freshly brewed coffee as you step into Ocean Financial Centre. Located in the glass lobby, Coffee Academics' skilful baristas will be sure to offer only their best brew to you. Savour their java gems including the Sugared Lattes series that boasts only all-natural sugars, perfect for an afternoon energiser!
Visit their websites at https://www.naminohana.co/ and https://the-coffeeacademicssg.com/ for more details.