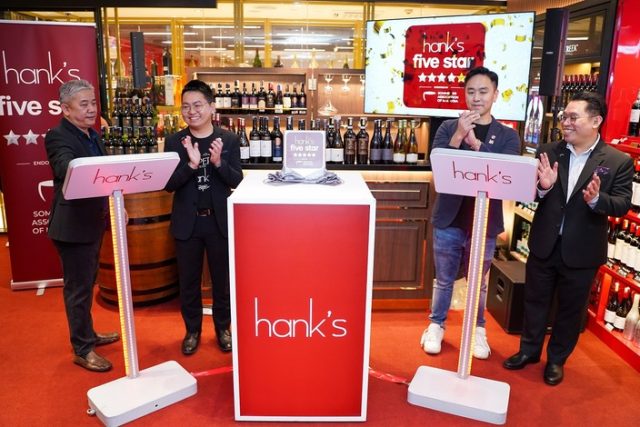 Here's Hank's Five-Star Wines endorsed by Sommelier Association of Malaysia
KUALA LUMPUR – For the first time ever in Malaysia, consumers get to choose from 60 labels  of officially-rated "Five-Star" wines curated by professionals for quality and value, yet easily available over 40 stores nationwide.
These Hank's Five-Star Wines, found in eight categories, have undergone a rigorous impartial blind-tasting judging process by sommeliers who are trained and knowledgeable wine professionals.
The Hank's Five-Star Wines initiative resulted from an exclusive collaboration between Malaysia's largest wine retailer Hank's and the Sommelier Association of Malaysia (SOMLAY).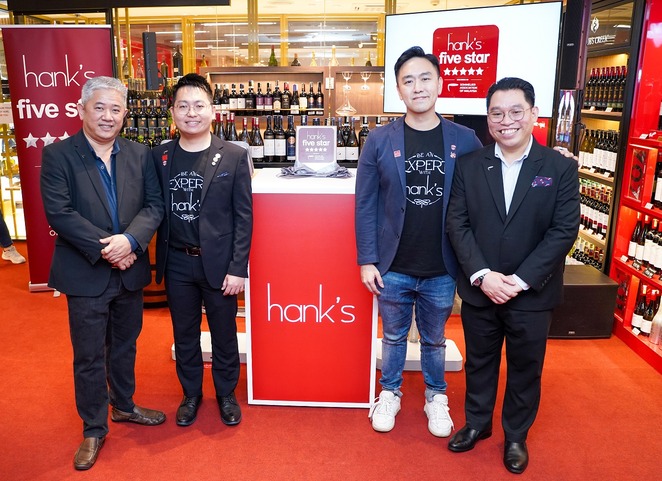 SOMLAY president Ronald Willie Binati introduced the inaugural Hank's Five-Star Wines to connoisseurs at a gathering hosted by Hank's at the Intermark, Kuala Lumpur outlet here on Sept 20.
The 60 labels comprise Old World Red, New World Red, Old World White, New World White wines which are then duplicated for those priced RM100 and below per bottle and those priced from RM101 to RM300.
Binati explained that SOMLAY evaluated over 140 labels submitted by suppliers throughout Malaysia and it was done through a blind-tasting process to ensure the utmost objectivity.
"Judges are unaware of the wine's identity and categorise them by grape variety and price. Using a 100-point scoring system, they score each wine, and the scores are averaged. Those achieving 85 points or above are bestowed the coveted 5-Star rating.
"This meticulous process assures that consumers receive a fair and objective evaluation of wine quality," he added.
This list is indeed a milestone in the Malaysian wine scene as it's the first credible guide for wine selection endorsed by SOMLAY.
Jaya Grocer Deputy Chief Executive Officer Daniel Teng said that, based on market research, selecting a good wine could often be daunting for consumers.
"With the wide variety of wines available, selecting a wine can be overwhelming. Hank's Five-Star Wines offers you professionally-curated top-quality wines, making it much easier for the average wine drinker to decide," he said.
Teng said this unique collaboration with SOMLAY emerged from Hank's commitment to providing a customer-centric experience. "We hear your request for guidance and recommendation on which wines to buy.  With Hank's Five-Star Wines, the world of wine is more accessible and enjoyable for all," he quipped.
Teng said ultimately Hank's was empowering consumers to make more informed and confident choices thus fostering a deeper appreciation of quality wines in Malaysia.
On this note, Binati described the Malaysian wine market as "fast diversifying" though traditional favourites such as Cabernet Sauvignon, Merlot, Chardonnay, and Sauvignon Blanc remained popular. More consumers are exploring lesser-known grape varieties and wine regions such as Albarino from Uruguay & Nero d'Avola from Sicilia, Italy.
Evolving palates for Malaysian consumers make them more discerning and sophisticated in their wine preferences on the quality. They are willing to explore wines at various price points and are increasingly interested in wines with unique characteristics.
Hank's Five-Star Wines is a timely boost for consumers in view of the year-end festivities and New Year revelry. "You can now shop for quality wines to usher in 2024 that meet your budget with absolute peace of mind," Teng said.
Teng also took the opportunity to showcase the refreshed look of Hank's at The Intermark featuring a premium wine room to host wine tasting parties.
The new-look Hank's covers a sprawling 2,500sf shop space complete with a dedicated wine dispenser. Opened since August this year, it will host launches and wine discovery sessions by various brands and partners. It carries wines and other alcoholic drinks including sake and spirits from all over the world.
About Hank's
Hank's is the leading Malaysian retailer of beer, wines and spirits providing exceptional selections and expertise to both wine connoisseurs and general consumers. With an expanding network and commitment to customer satisfaction and quality products, hank's is the top trusted destination for all wine and alcohol-related needs.
About the Sommelier Association of Malaysia (SOMLAY)
The Sommelier Association of Malaysia (SOMLAY) is a non-profit organisation founded in 2009. It is the only official Sommelier Association in Malaysia.  Membership is open to professionals in the beverage trade, hospitality industries, and beverage education.
The association's primary focus is to develop the knowledge and skills of people working with hospitality, tourism, and wine businesses, by constantly being "Evolving, Enlightening and Engaging".
We strive to network with other sommelier associations worldwide and is affiliated with renowned international sommelier associations or groups such as Association de la Sommellerie Internationale and Southeast Asia Sommelier Alliance.