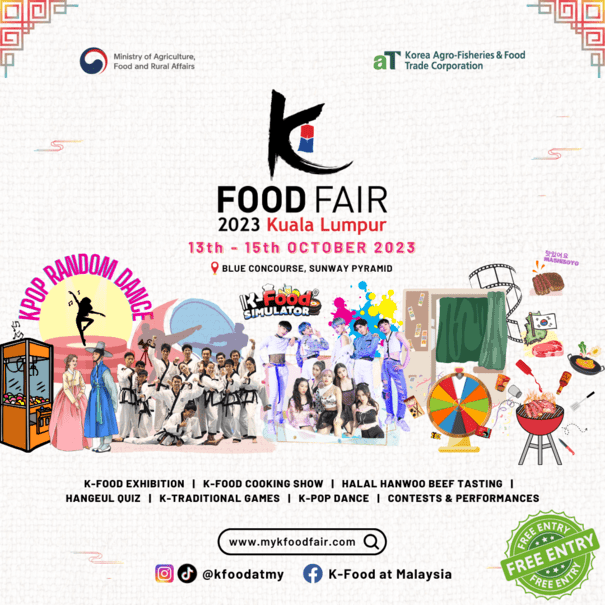 Kuala Lumpur, 13 October 2023 – The K-Food Fair is back, brought to you by the Korea Agro-Fisheries and Food Trade Corporation and the South Korean Ministry of Agriculture, Food and Rural Affairs. Experience K-culture from 13 to 15 October at LG2, Blue Concourse, Sunway Pyramid Mall from 10AM to 10PM. 
Here's everything you need to know about K-Food Fair 2023.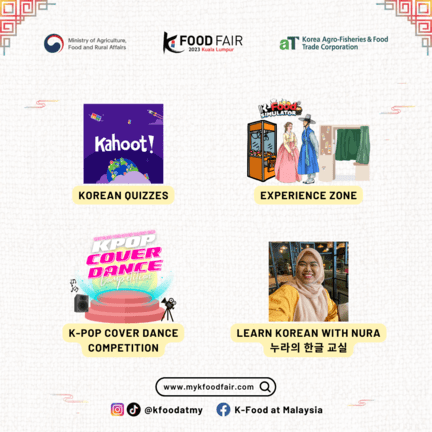 Day 1 – 13 October 2023 (Friday)
The K-Food Fair 2023 is officially back in Malaysia. Starting with a welcome speech by Jang Jae Hyung, Managing Director of the aT Centre Kuala Lumpur. He is joined by  H.E. Yeo Seung-bae, Ambassador of The Republic of Korea, and Amy Hoo, Head of Marketing Department Sunway Pyramid to commemorate the event with the Bibimbap Ceremony.
It will be  followed by energetic performances from the local's favourite K-Pop Cover Dance group, Kueendom and Kingsman, performing popular songs from BTS, Blackpink, EXO, PSY, TVXQ and New Jeans. Joining the stage is Malaysia's Taekwondo Demonstration group, Team Arena, with their spectacular Taekwondo performance.
Day 2 – 14 October 2023 (Saturday)
In celebrating Hangul Day, Learn Hangeul with Nura. On TikTok and Instagram, Nura often shares Korean expressions for daily conversation and learning tips for beginners. Let's Learn Hangeul with Nura and test ourselves with Kahoot quizzes to stand a chance to win K-Food Fair 2023 vouchers.
Later, catch the best of the best at the preliminary round for the K-Pop Cover Dance Competition. There will be 10 groups and solo contestants competing who will be judged via  public votes to make it as  Top 5 finalists. Excited to join the moves? Join the K-Pop Random Dance sessions with the dancers and let loose!
Day 3 – 15 October 2023 (Sunday)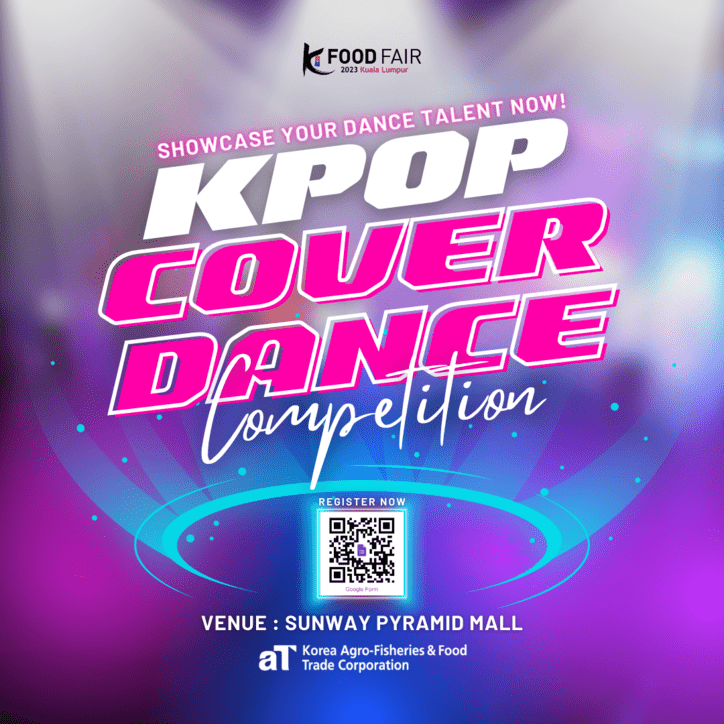 It is the day of the final round of the K-pop Cover Dance Competition. The final five contestants (group or solo) will compete to be the champ and take home cash prizes. Winners will stand a chance to win prizes up to RM7,000. Since everyone will be energized, come join another Random Play Dance with the dancers and celebrate the spectacular finale!
FUN-FILLED K-ACTIVITIES RUNNING FOR THE WHOLE 3 DAYS
The public can look forward to the K-Food Experience Zones and have some fun with the Korean traditional games such as Tuho, Jegichagi, and stepping stones for the entire day. The public can also try out the Korean traditional clothing, Hanbok, and take photos at the K-Food Photobooth. While you are here, and do not forget to tag @kfoodatmy and include the hashtags #kfoodfair2023 and #malaysiakfoodfair2023.
In partnership with JayaGrocer, customers can make their purchases at the K-Food Sales Zone. With a minimum purchase of RM50, customers will stand a chance to try out the Claw Machine or the Photo Booth zone for free. 
For more information on K-Food Fair 2023, please visit www.mykfoodfair.com.