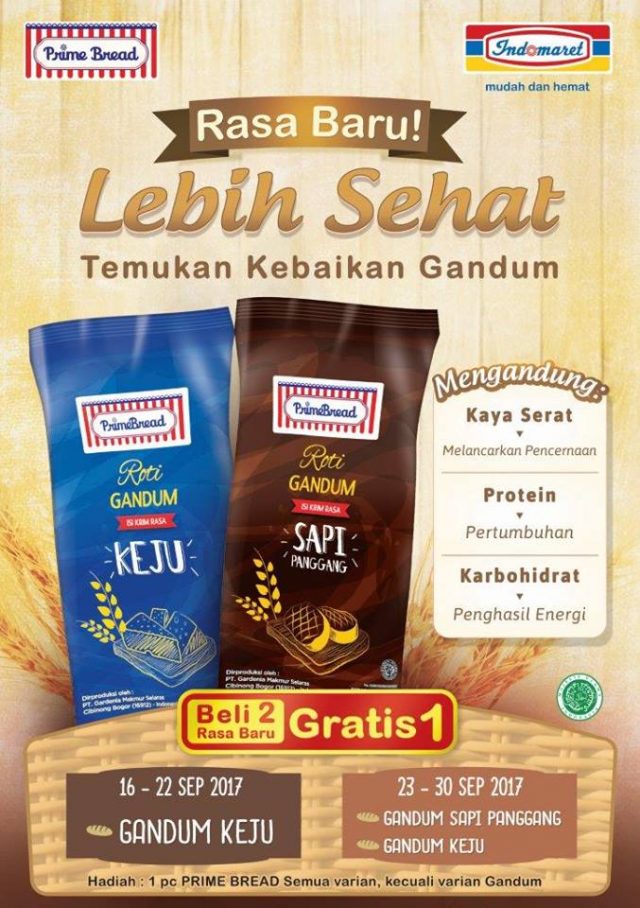 PT Gardenia Makmur Selaras, first launched in 2016, has enriched its Prime Bread range in Indonesia with wholemeal cream roll (roti gandum). Available since September 2017, the wholemeal cream rolls come with wheat bran (tepung kulit gandum) to provide the rolls with better texture and a healthier choice.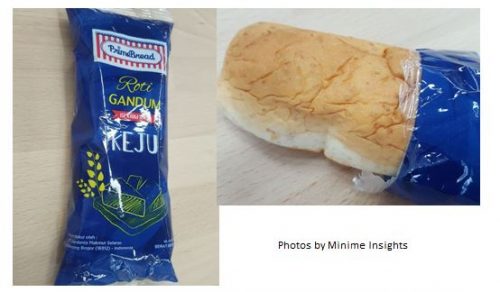 Main ingredients
The key ingredients in the Prime Bread Roti Gandum Isi Krim Rasa Keju (Prime Bread Wholemeal Roll with Cheese Flavour) are wheat flour (tepung terigu), water (air), sugar (gula pasir), shortening (lemak reroti), cheese (keju), fructose syrup (sirup fruktosa), potato starch (tepung kentang), wheat bran (tepung kulit gandum), margarine (margarin), gluten flour (tepung gluten), yeast (ragi), whey powder (whey bubuk), emulsifier (pengmulsi), skim milk powder (susu skim bubuk), salt (garam), cheese powder (bubuk keju), preservatives – calcium propionate and calcium sorbate (pengawet – kalsium propionat dan kalium sorbat), vitamin and minerals (vitamin dan mineral), artificial cheese flavour (perisa artifisial keju) and flour treatment agent (perlakuan tepung).

The wholemeal cream rolls comprise cheese flavour and roast beef flavour (sapi panggang). Each comes with a net weight of 50g and is priced at IDR 3,500 (USD 0.26).
In addition to the two new wholemeal cream rolls, Gardenia Makmur Selaras introduced a new strawberry yoghurt flavour in September 2017 to bring the total number of cream roll variants to five. The existing four cream rolls comprise vanilla, corn cream, chocolate and caramel margarine.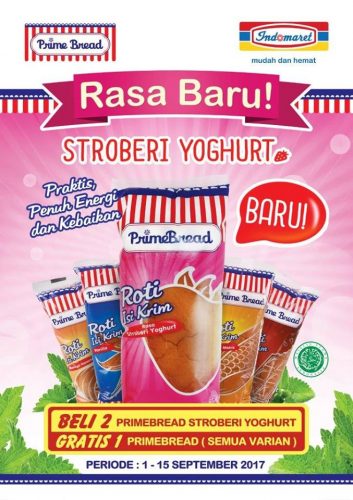 Wholemeal cream roll launched in Singapore in February 2017

In Singapore, Gardenia introduced the Gardenia Dual Cream Wholemeal Cream Rolls with the fusion of two cream flavours of Cranberry & Vanilla, and Peanut Butter & Caramel in February 2017.
The Gardenia Enriched Cranberry & Vanilla Wholemeal Cream Roll and Gardenia Enriched Peanut Butter & Caramel Wholemeal Cream Roll are packed with a generous dose of dual cream and each wholemeal bread roll is made with super fine and soft wholemeal flour and enriched with vitamins B1, B2 and B3.  

In Malaysia, Gardenia has yet to introduce wholemeal cream roll.
Prime Bread sold exclusively in Indomaret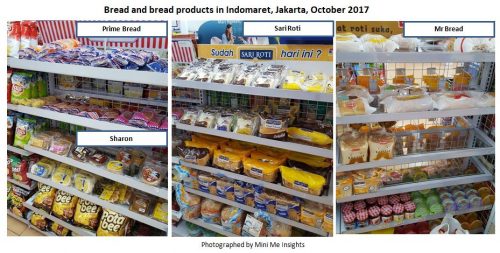 Indomaret devotes three shelves for bread and bread products – Prime Bread, Sharon, Sari Roti and Mr Bread.
Prime Bread is exclusively distributed by PT Indomarco Prismatama and sold in Indomaret minimarkets across Indonesia. Mr Bread is made by PT Indoroti Prima Cermerlang, founded in October 2015 and is likely to be affiliated with Indomarco Prismatama.
Yamazaki MyRoti is sold in Alfamart, while Sharon is available in both Indomaret and Alfamart.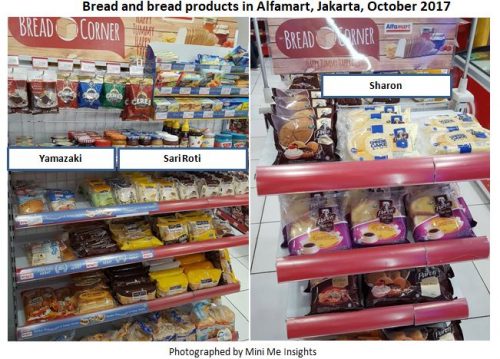 All eyes on minimarket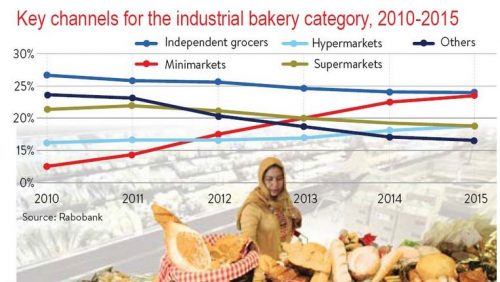 A Rabobank report in 2016 has revealed minimarket has become a major channel for the bakery category in Indonesia with minimarket's share of sales reaching that of independent grocers in 2015.
The Jakarta Post in June 2016 reported bread sales at Indomaret grew by 25-30% year year in the past five years in value and volume citing Haliman Kustedjo, president director of Indoritel Makmur International, the parent company of Indomarco Prismatama, which runs the Indomaret minimarket chain.
In the first three months of 2016, sales of Sari Roti and Mr Bread in Alfamart stores surged by 84.2% year-on-year, while private label bread sales in the minimarket chain rose 81.3%, reported The Jakarta Post.
Indomaret is significant for Sari Roti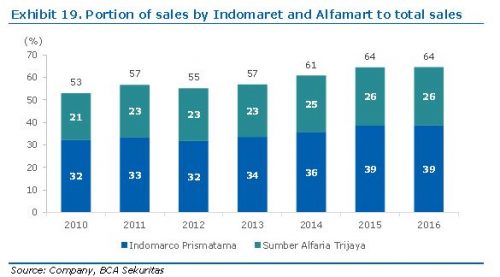 An equity research report by BCA Sekuritas citing PT Nippon Indosari Corpindo (Sari Roti) data shows Indomaret is an important sales channel for Sari Roti in the modern trade. Indomaret's share of sales for Sari Roti at 39% in 2016 was much higher than Alfamart at 26%. The combined contribution of the two of the country's dominant minimarket chains towards Sari Roti's revenue in 2016 stood at 64%.
What Mini Me thinks
It is all eyes on minimarket as growth of convenience store has stalled following the collapsed of 7-Eleven. Other growth venues for large packaged bread companies include traditional trade, which is dominated by smaller players and direct sales (online and door-to-door).
With an affordable price, cream roll is a segment that has potential to grow for on-the-go consumption and Prime Bread is in the forefront to ride that growth.