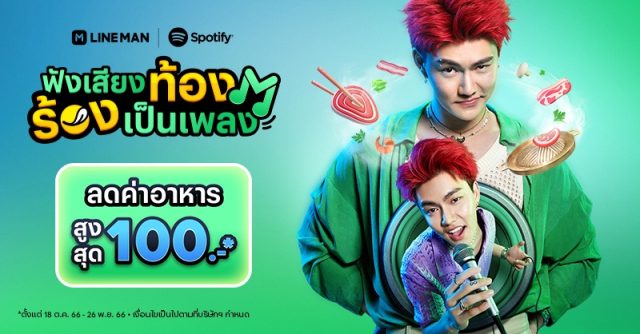 Wednesday 18 October 2023  – LINE MAN, Thailand's leading on-demand platform, and Spotify, the world's leading audio platform, have teamed up for the first time to launch a campaign called 'Tune into The Song of Your Stomach'. This campaign highlights the sensory marketing experience that connects delicious meals with crave-worthy Spotify music playlists that invite you to listen, enjoy, and satisfy those hunger pangs through audio. The companies welcome famous Spotify RADAR artist YourMOOD to spark viral trend through the special edition of the song called 'อยากกินหมูกระทะกะเธอ (Want to eat Mookata with you)' which can be listened to today in the Spotify playlist 'Mouthwatering Songs'. The campaign also packs a punch with promotions are available on LINE MAN.
"The collaboration between LINE MAN and Spotify for the 'Tune into The Song of Your Stomach' campaign combines the unique strengths of two very different platforms.  This partnership aims to create new experiences for Thai people through sensory marketing strategies that appeal to customers' senses. By listening to a playlist that stimulates the hearing and taste nerves, customers can satisfy their cravings and order immediate delivery from over 700,000 restaurants across Thailand via LINE MAN. Additionally, users who order food on LINE MAN during the campaign period will receive a special discount code." said Krit Baisirikun, Vice President of Marketing of LINE MAN Wongnai.
"Music is connected to many moments in life and can sometimes stimulate the appetite. Spotify collaborating with LINE MAN provides a new experience for Thai people through the senses of hearing and taste. As part of this campaign, a special playlist called 'Mouthwatering Songs' has been curated, featuring over 50 songs from Thai artists in one playlist. And when you think of food, you can order delivery immediately on LINE MAN. I believe that this campaign will attract new groups of users from both platforms." said Piyoros Luckcam, Senior Music Editor of Spotify Thailand.
Users can discover a variety of meals on LINE MAN and enjoy a variety of music on Spotify. Moreover, they have partnered with YourMOOD, the artist behind the viral hit 'ลาก่อน' (Goodbye), who is also a Spotify RADAR artist, a music program that uplifts emerging artists and the celebrates the joy of discovery. Together, they have created an exciting new experience in the Thai food and music industry.
Let's enjoy the 'Tune into The Song of Your Stomach' campaign from LINE MAN x Spotify. The campaign features a 'Mouthwatering Songs' playlist at https://spotify.link/zTlvkYuKNDb on Spotify. No matter which dish your stomach sings for! Just order via LINE MAN at https://lineman.onelink.me/1N3T/hqk5l4pe and apply the promo code right away!
For new users, apply the promo code 'SPOTIFY' to receive a 30% food discount (max. 100.-*) when ordering food at least 150.-
For all users, apply the promo code 'SPOTIFY100' to receive a 10% food discount (max. 100.-**) when ordering food at least 200.-
Exclusively on LINE MAN! Get two months of Spotify Premium at only 139.-* (from 278.-*) for users who try Premium for the first time, from October 18 – November 26, 2023 (Limited one time per user).
Get ready to have fun throughout the campaign with exciting activities, such as:
Joining 'Live Session' featuring the special version of 'Yak Gin Moo Krata Ga Ter', a catchy Thai song that will allow you to sing your craving moment into a melody!
Playing for a chance on LINE MAN Facebook to win exclusive merchandise 'T-Shirt' from YourMOOD artist from October 20 – October 26, 2023.
Visiting @spotifyth on Facebook, Instagram, X, and TikTok for more information.
*Terms and conditions applied
*Valid from October 18 – November 26, 2023
**Valid from October 18 – 31, 2023