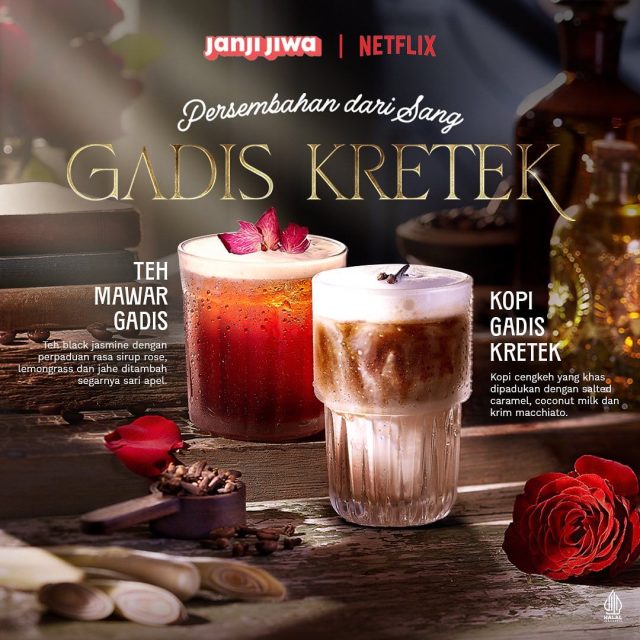 Indonesian coffee chain Janji Jiwa has partnered with Netflix's latest period drama, Gadis Kretek (Cigarette Girl), to launch two exclusive beverages inspired by the series. Set against the backdrop of Indonesia's tobacco industry in the 1960s and early 2000s, Gadis Kretek follows the story of Dasiyah (Dian Sastrowardoyo), the daughter of a kretek (clove cigarette) maker, who is determined to create the perfect clove cigarette blends.
The two collaborative drinks capture the essence of the drama's flavors. Kopi Gadis Kretek is a rich coffee infused with clove notes, complemented by salted caramel, coconut milk, and macchiato cream. Teh Mawar Gadis, on the other hand, is a fragrant black jasmine tea infused with rose syrup, lemongrass, apple, and ginger.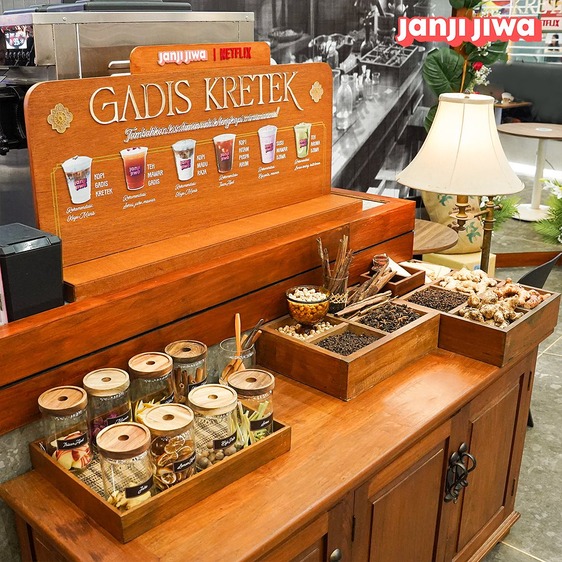 To further immerse consumers in the world of Indonesian spices, Janji Jiwa has transformed its Gandaria City outlet into a Gadis Kretek-themed haven.
In a separate development, Janji Jiwa has earlier unveiled a new logo and outlet concept, along with the launch of "Mobile Coffee Cart: Kopi Sejuta Jiwa," aimed at enhancing accessibility for customers to enjoy the exquisite taste of Janji Jiwa coffee, according to the press release in September 2023.
"Kopi Sejuta Jiwa Mobile Coffee Cart is a new initiative by Janji Jiwa to expand its reach to a broader audience of coffee enthusiasts. Janji Jiwa will employ as many as 50 environmentally-friendly electric bicycles to deliver their specialty coffee and non-coffee products to customers at affordable prices, ranging from Rp. 8.000 to Rp. 10.000," according to the press release.
"Currently, the Kopi Sejuta Jiwa Mobile Coffee Cart will serve various sales areas, including Petamburan, Kemanggisan, Duri Kosambi, Greenville, and Brigjen Katamso in West Jakarta; Sudirman, Tanah Abang, Kebon Kacang, and Cideng in Central Jakarta; as well as Bendungan Hilir and Cilandak in South Jakarta."