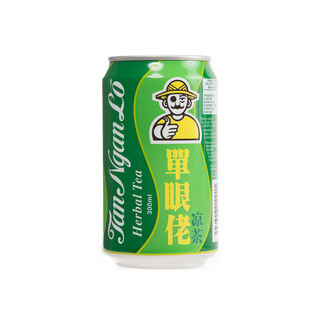 Tan Ngan Lo, loosely translated as One-Eye Man, has been a household name among the Chinese community in Malaysia for its ready-to-serve teabag medicated tea. The manufacturer of the tea is Wen Jiang Medical Industries Sdn Bhd, founded in 1963.
Despite being an early mover in the herbal tea market, the brand seems to have lost its chance to make a big splash in the ready-to-drink (RTD) herbal tea and herbal tea shop categories, losing respectively to Wong Lo Kat (now known as Jiaduobao) and Koong Woh Tong (恭和堂) . Now, Tan Ngan Lo is trying to recapture lost territories and is aggressively expanding in both the packaged drink and herbal tea shop markets.
Distribution has always been a problem for Tan Ngan Lo RTD herbal tea drink. Tan Ngan Lo is not widely available in leading retail stores but things are getting positive as product presence is improving. Tan Ngan Lo does have the price advantage as it is priced at a steep discount, accounting for just 62% of the price for a six-pack Jiaduobao canned herbal tea drink.
The next battle ground for Tan Ngan Lo is herbal tea shop. For this segment, it is up against Koong Woh Tong, founded in Malaysia in 1990 with outlets in most shopping malls in the country. By the way, Malaysia's Koong Woh Tong has absolutely no direct relationship with Hong Kong's Kung Woh Tong. The latter claims to be the oldest Guilingao or Tortoise Jelly maker in Hong Kong. However, both share the same Chinese name, thus causing confusion to consumers.
Tan Ngan Lo opened its first flagship outlet at Sunway Ginza Mall in January 2013. Since then, it has set up several stores including in Ipoh, USJ, Sunway Pyramid and Cheras Leisure Mall. Tan Ngan Lo may do well in herbal tea but the brand is still not known for its tortoise jelly, which is where Koong Woh Tong has the upper hand. Tan Ngan Lo clearly has an uphill fight against Koong Woh Tong. I personally haven't seen a Tan Ngan Lo herbal tea shop, not even in Cheras Leisure Mall. The latest Cheras Leisure Mall directory doesn't show the existence of Tan Ngan Lo outlet, only Koong Woh Tong. A latest visit by a friend has proved the existence of the shop but there were only few customers.