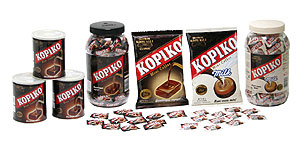 PT Mayora Indah Tbk (MYOR), known for its Kopiko coffee candy, is one of Indonesia's biggest food companies. The company makes everything from coffee and cereal to candy and biscuits.  Its revenue grew at a CAGR of 20.6% between 2008 and 2013, operating income up by a CAGR of 24.8% and net income rose by a CAGR of 32.1% over the six-year period.
2011 was a terrible year for MYOR due to high commodities prices. During the first half of 2011, the cost of palm oil, sugar, wheat and coffee escalated. To keep its prices competitive, the company chose to absorb most of the raw material price hike to maintain the sales momentum. Nonetheless, COGS grew faster than revenue growth, which resulted in the decline in overall profitability. In 2012, the company imported 40% of its raw materials.
2012 was a strong recovery year for the company with net income surging by more than half. The following year 2013 bottom line was boosted by gains in foreign exchange of IDR308 billion (2012: IDR38 billion). The huge gains in foreign exchange has to do with the depreciation of the rupiah versus the greenback. MYOR may see a smaller gain on foreign exchange with the recovery of the rupiah against the US dollar in 2014. Therefore, net income may be affected.
Labour cost
MYOR is facing rising labour cost pressure, which rose to 4.8% of total net sales in 2013, up by 1.8 percentage points from 2008. Indonesia's minimum wage for 2014 grew by a range of 7.66% in East Kalimantan to 29.64% in Bangka Belitung with Jakarta up by 11%. See
minimum wage
.
Gearing level
The gearing ratio fell to 51.09% in 2013 from 79.77% in 2012 due to the increase in cash and cash equivalent, while total borrowing remained unchanged at IDR3.7 to IDR 3.8 trillion with most of them non-current liabilities with a repayment period of longer than one year. Interest expense has been manageable, thanks to rising sales. MYOR has been cutting back on capex to reduce its gearing level. Most of the expansion was made in 2012, which will be adequate for future needs.
Sales breakdown by geography
MYOR has been aggressively expanding its global footprint. The export market will be the key driver for MYOR going forward. In Malaysia, MYOR has become very active in the market with innovative products such as the low acid coffee Kopiko LA Coffee and its biscuit ranges such as Astick and Slai O'lai. Malaysia is ripe for MYOR's Energen Cereal as the country has a strong culture of drinking 3-in-1 cereals.
In China, its Astick stick biscuit has good shelf presence in the leading trade channels. As for the Kopiko candy, it is well known globally.
By segment
Food processing is proven to be a more lucrative business for MYOR and this is reflected in the higher share of food processing in operating income. MYOR is moving in the right direction by focusing more on food processing than on the highly competitive coffee business.
Conclusion
The growing export business and the focus on food processing put the company in a good position.  The key risks are commodities prices and debt-fuelled expansion. The focus on one-off items such as gains on forex may not be sustainable.  
With an EPS of IDR 1,165 in 2013 and the current share price of IDR30,000 (28 March 2014), the P/E of 25.75 makes the company cheap in the FMCG space in Indonesia.
Disclaimer: The author is vested in MYOR