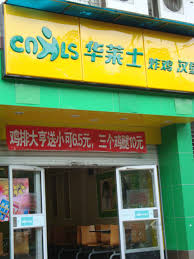 Made-in-China products have flooded the world and it is hard to live a normal life without made-in-China products. Even Chinese home grown burger chains are heading overseas. After years of being overshadowed by the likes of KFCs and McDonald's, homegrown burger chains have grown in scale and have reached a point where they are starting to export their fried chicken to the world.
At the end of 2013, Yum! Brands operated 4,600 KFCs and 1,264 Pizza Huts in China, making it the largest western fast food chain in the country. Taiwan's Dico's had over 2,000 outlets at the end of 2013, while McDonald's will open its 2,000th outlet by the end of April 2014.
Unknown to the outside world and oblivious to some ordinary urban Chinese consumers, CNHLS (Hualaishi 华莱士)  is actually the second largest western fast food chain in China after KFC by store count with about 4,800 stores mainly in lower tier cities. Following the footsteps of CNHLS are a legion of equivalently aggressive local western fast food chains with funny abbreviated names like LEM (乐而美), KDS (快乐星)and Pala (派乐).  LEM and Pala each has over 1,000 stores. They expand mainly through franchising without significant investment on their own.
LEM and KDS are the more aggressive ones internationally. KDS said it is making inroad into Myanmar and Africa since 2011, while LEM opened its first outlet in South Africa in February 2014. It makes sense for China's western fast food chains to enter developing and less developed markets as consumers there may not even have tasted McDonald's or KFC such as the case with Myanmar. As long as there is fried chicken and fried food selling at affordable prices, Chinese western fast food chains will be in a good position to tap such demand.