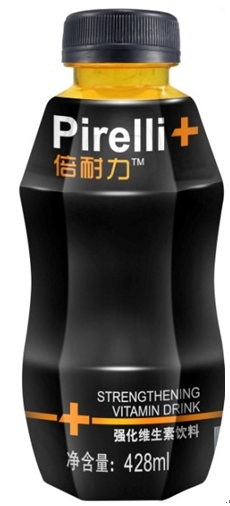 Another new energy drink has appeared in China as the country welcomes the arrival of summer. The Pirelli (倍耐力) energy drink contains taurine, nicotinamide, caffeine and vitamin B6 and sells in a 428ml black-colour, contoured PET bottle. The manufacturer is Pirelli International Holdings (倍耐力国际控股有限公司), a Hong Kong-invested company with a production line in Guangzhou.
Lamborghini is the "official energy drink of the 2012 China Formula Grand Prix"
Pirelli is another line of energy drink that rides on the Italian motoring theme. The closest equivalent is the  Lamborghini (兰博基尼) energy drink. Lamborghini not only is into energy drink, its other ranges include some unlikely candidates such as coconut drink, milk tea, mango juice with aloe bits and mocha drink. The producer of the Lamborhini range is Beijing Hyperflavour International Trading Co., Ltd. (北京惠远普国际进出口贸易有限公司), which first entered the market in 2011 through a partnership with Lamborghini (Italy) Food International Group Limited registered in Hong Kong.
The origins of both Lamborghini and Pirelli seem dodgy. Italy's Tonino Lamborghini does make energy drink. However, it is not known if Tonino Lamborghini has any connection with Lamborghini (Italy) Food International Group.
Coconut juice
Mango juice with pieces of aloe