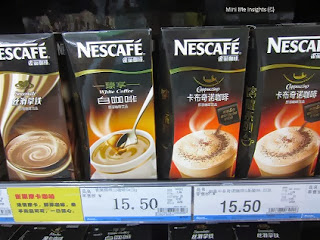 White coffee players beware, Nescafe is striking back! Not only is Nescafe aggressively marketing its instant white coffee in Malaysia, the birthplace of white coffee, it has also made white coffee part of its product line up in China as seen in the picture taken in Chengdu, capital of southwest China's Sichuan province.

 

Mainland Chinese are gradually developing a taste for white coffee as evidence by the appearance of imported white coffee products, mainly from Malaysia, on supermarket shelves.

 

Mainland tourists are also buying white coffee in bulk when visiting Malaysia and Singapore or when they are vacationing in Indonesia. I have seen mainland tourists buying the Indonesian 'white coffee' variant in Bali, which shows the low awareness of the origin of white coffee among mainland consumers.
Let's see if there is any price difference between an imported OldTown original flavour white coffee and a Nescafe white coffee in China. During a store check in Chengdu, the Nescafe White Coffee (5x29g) is selling for RMB 15.50 or RMB 0.107 per gram, while the OldTown Original Flavour White Coffee (360g) is selling for RMB 36.90 or RMB 0.103 per gram. Given the usual case of lower selling price per unit for larger pack, it seems there is not much price difference between Nescafe and OldTown white coffee products in China.  However, Nescafe has the distribution reach and its products have better shelf placement whereas OldTown is not carried in most stores and its products are usually located in the imported food section, which implies that they are usually more expensive than the rest.
Therefore, it is not at all surprising to see mainland consumers becoming more acquainted with the taste of Nescafe white coffee given the brand's strong distribution and marketing prowess in China.