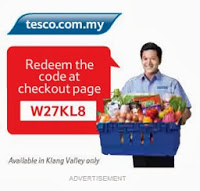 Tesco W27KL8
Tesco has recently launched an aggressive push to popularise its online home delivery service. I was surprised to find a stack of Tesco postcard-sized DM in my mailbox at home. The DM contains a voucher code worth RM 20 that can be used for orders valued at RM 100 or more. However, the actual savings is only RM 10 since the cost of delivery is RM 10.
Besides DM, the UK hypermarket chain is giving away the voucher code for free on leading search portals such as Yahoo!.
It is clear that Tesco wants to win the online grocery game.