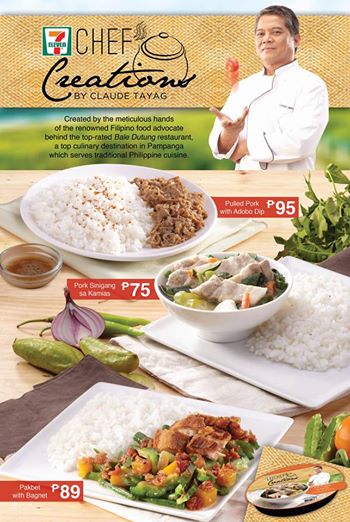 You can't helped to be amazed with 7-Eleven Philippines for coming up with this novel idea of using renowned chef Claude Tayag to introduce the Chef Creations ready meal range. Launched in May 2014, the three Filipino gourmet ready-to-eat foods comprise:
Pulled pork with adobo dip (P95)  – Classic adobo simmered in vinegar
Pork sinigang sa kamias (P75) – Traditional slow-cooked sinigang that uses leaner cuts of pork and vegetables like kangkong and labanos
Pakbet with bagnet (P89) – Pinakbet sautéed in bagoong alamang (shrimp paste).
Dish descriptions taken from http://www.gmanetwork.com/news/story/359024/lifestyle/food/a-sneak-peek-at-the-new-chef-creations-by-chef-claude-tayag
In Malaysia, we do have CP microwavable food in 7-Eleven but are they selling well? So, it is perhaps time to do a Pak Nasser's nasi lemak or Kamal's mee goreng mamak AirAsia style for 7-Eleven Malaysia. Probably TV3's 5 Rencah, 5 Rasa program host Sherson Lian can create something to bring in the crowds.
http://download.sofun.tw/7-11-icecream/
Something unique is always welcome such as with soft-serve ice cream where 7-Eleven and FamilyMart are outdoing each other in Taiwan. There was a news report of people having to queue for half an hour just to buy the 7-Eleven Hokkaido soft serve ice cream made from Japanese cream and cones.
Old packaging
New packaging
At the 7-Eleven in China, it is Unifresh not from concentrate (NFC) fruit juice, which has a very contemporary look, ideal for white-collar workers looking for a healthy drink.
The question is what can 7-Eleven Malaysia offer to excite convenient store goers in Malaysia?